Recently blessed with the opportunity to speak to A.J. Croce about his upcoming "Croce Plays Croce 50th Anniversary Tour," – a show celebrating the life and legacy of his late father, famed singer/songwriter Jim Croce – I reminded him that we had talked a few decades ago when I was assigned to write a bio for Fit To Serve, his third album in a now 30+ year career that includes 11 solo albums and 21 Top 40 singles on the jazz, blues, college radio, Triple AAA, Top 40, AC and Hot AC charts. During that interview I asked him about memories of his dad, who died a week before A.J.'s second birthday in 1973. A.J. said, "I really didn't know the guy."
That changed in the early 2000s, when as administrator of Croce Music Group, A.J. began archiving some of the home tapes, demos and live recording outside Jim's popular ABC catalog that his dad had left behind. During that process, he discovered a reel to reel of Jim playing deep catalog songs by classic blues and jazz artists like Fats Waller and Bessie Smith, and old school country artists like Jimmie Rodgers, as practice for an upcoming bar gig. Though he grew up listening to his dad's extensive LP collection, until this moment he had no idea that Jim loved these tunes that A.J. himself had been playing and performing for years. A.J. realized there was a connection between them that transcended DNA – a link to the history of American music, with influences that informed their own great musical storytelling.
After many years of resisting numerous offers to perform Jim's music, A.J. casually laid the foundation for what evolved into Croce Plays Croce ten years ago performing some of the classic songs (amidst a set of his original material) at 70th birthday celebration for Jim at Croce's Restaurant and Jazz Bar, a San Diego based establishment owned and managed by his mother Ingrid from 1985 to 2013. Encouraged by the overwhelming audience response, he began mixing a few of Jim's songs into his regular tour performances. The key to making it work was not simply covering the songs, but bringing his own style and flair to them, infusing a fresh, spontaneous excitement. The current upcoming tour is a large venue sequel of sorts to 2022's nine-date tour marking 50 years since the release of Jim's breakthrough album You Don't Mess Around with Jim.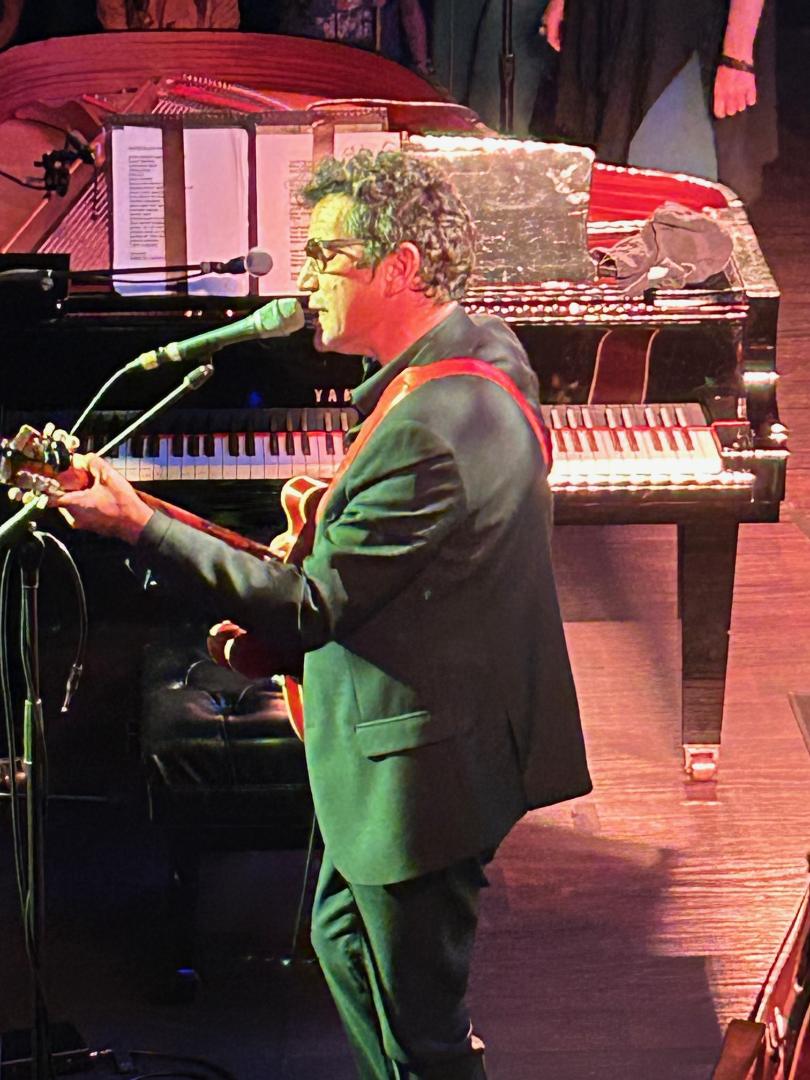 The line snaking around the block of The Troubadour for A.J.'s preview performance in September proves that several generations later, there's still a clamoring for all things Croce. Though in essence his dad's career in the spotlight lasted only 18 months, Jim's blend of witty and whimsical, foot stomping character songs and warmhearted ballads (which A.J. fondly describes as "like Elizabethan folk music" is evergreen classic pop/rock. Alternating effortlessly between his wild, virtuosic piano pounding and soulful, lyrical guitar, the singer and his veteran band of David Barad (bass), Gary Mallaber (drums) and James Pennebaker (guitar) had the sellout crowd groovin' and singing along from the get-go with a stomping rendition of "You Don't Mess Around With Jim."
A.J. once proudly said that audiences of the Croce Plays Croce experience "leave not only with a new perspective on Jim, but as fans of mine as well." That's because he creates an eclectic, edge of your seat set list following a New Orleans styled A.J. romp like "Easy Money" with the classic high-spirited Brownie McGhee/Sonny Terry blues tune "Better Day," one of Jim's coolest non-hit narratives ("Box #10") and then "Operator," a classic Jim heartbreaker everyone knows. A.J. has cultivated his own storytelling skills, not only in song but with classic anecdotes like recounting the story Floyd Dixon (whom A.J. opened for at 16) told him about enlisting Ray Charles to drive him and Sam Cooke. This made the perfect intro to a deeply soulful rendition of "Nothing Can Change This Love," a Cooke tune revered by both father and son. Showcasing his "anything can happen," stylistically diverse aesthetic, A.J. then dove into an extended, high-energy Boogie Woogie piano jam which led into a rambunctious spin through Billy Preston's piano centric classic "Nothing From Nothing."
The second half of the 90 minute show was decidedly more Jim-centric, following two bluesy frolics he recorded ("Rollin' On," "The Heart That Makes Me Whole") with dynamic rolls through some of his dad's best character tales, "Workin' At the Car Wash Blues," "Speedball Tucker" (performed after throwing things open for audience requests) and "Rapid Roy (The Stock Car Boy)," in addition to "Tomorrow's Gonna Be a Brighter Day."
As time and soul transporting as it was to hear A.J. master gems from his dad's catalog with wit, charm and stylish, bluesy cool, perhaps the most memorable performance of the show was taking the crowd to church for his own dramatic, gospel, blues and Latin fired piano pounding singalong "Judgment Day," which prominently featured his two female backup singers, Katrice Donaldson and Jackie Wilson.
A.J. closed with the ultimate crowd-pleasing singalongs, Jim's era defining first #1 smash "Bad Bad Leroy Brown" and "I Got A Name" (inviting the song's co-writer Charles Fox up to play piano!) The encore featured what was truly the most poignant father-son moment of the show, with Jim's voice singing the first verses of "Time in a Bottle" (his posthumous #1 hit, inspired by love for his newborn son) as a video of vintage Croce home movies ran on a screen behind the stage, and A.J. coming in to finish his dad's most indelible and enduring contribution to pop music. The "Time in a Bottle" video is available on YouTube, and it shows just how devoted and loving a dad Jim was to his young son, who would grow up to create a powerful legacy of his own even as he continues to celebrate Jim's.