Photo Credit: Ed Davis
Players: Jim Adkins – lead vox, guitar; Tom Linton – guitar, backing vox; Rick Burch – bass guitar,
backing vox; Zach Lind – drums, percussion; Robin Vining - multi-instrumentalist, backing vox

On their 30 th anniversary tour, Arizona rockers Jimmy Eat World played a killer set at Los
Angeles' Greek Theatre, pulling songs from their early days on the 90's alternative rock scene
through to more recent releases. With ten studio albums behind them, the group performed
selections from Clarity (1999), Bleed American (2001), Futures (2004), Chase The Light (2007),
Surviving (2019), and 2022 singles "Something Loud" and "Place Your Debts" to an enthusiastic,
packed crowd.

Opening with newer release, "Congratulations" (from 2019's Surviving), the band built
incredible tension and drive with solid breakdown drops between the guitar, bass and drums,
stellar guitar solos, call-and-response and harmonized vocals. With lifelong fans packing the
venue, attendees stood fully engaged and were vigourously singing along to every word by song
three. Frontman Jim Adkins' vocals were on point, belting to the house and leaving every ounce
of artistry and energy on stage, while drummer Zach Lind delivered fantastic breakdowns.
"Bleed American" opened with a full-on cymbal smash drive from Lind. Fabulous drumming and
tight band shots continued on feisty single "Something Loud," a drumkit-driven stomp (with
clapping crowd) unfolded on "Just Tonight," followed by an incredible kickdrum outro on
"Lucky Denver Mint."

2007's moody rock ballad "Dizzy" highlighted the gifted storytelling of the group and their
ability relate and interact with their longtime fanbase, bringing great rhythm playing from
guitarist Tom Linton. Between harmonized vocals and fabulous syncopation (especially in "For
Me This is Heaven"), and an ability to switch styles and emotions between songs – electric, dark
and moody vibes in "555," driving punk flavors in "A Praise Chorus" and heavy electronic effects
and harmonized vocals in the pre-chorus of "Place Your Debts" – Jimmy Eat World has a unique
ability to emote to and engage with their fans.

The energy remained electric throughout the evening's performance, with the crowd singing
along, especially on refrain 'I wanna fall in love tonight' on "A Praise Chorus," the unified
rebellion of "Work," and throughout the relatable lyrics of "Pain." Mellow track "23" built an
incredible vibe that focused the intense crowd with heavier instrumentals, before switching
gears to round out the night with the ultimate college flashback as the passionate audience
chanted along to 2001's anthemic singalong "The Middle."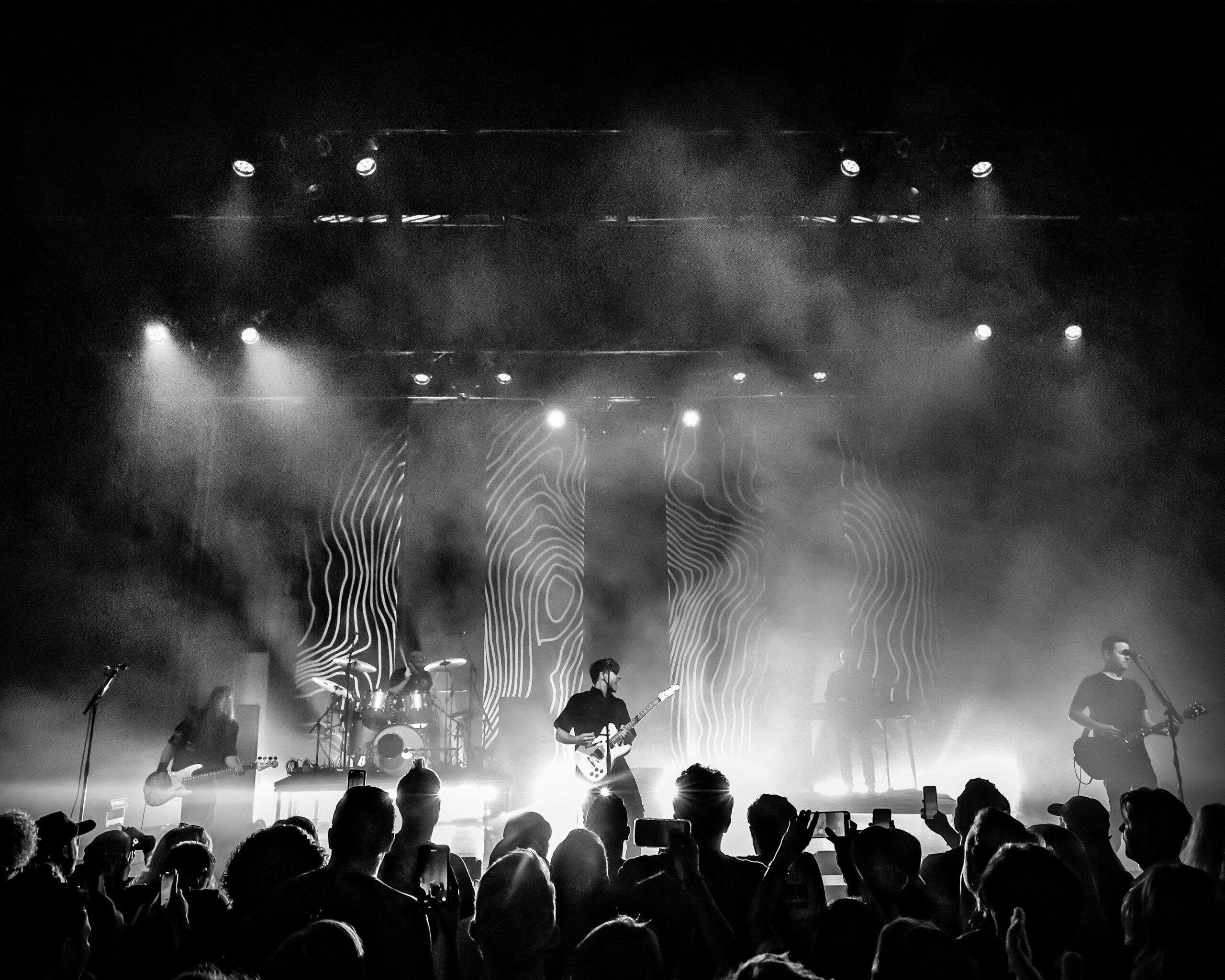 Setlist
Congratulations
Bleed American
Sweetness
Something Loud
Dizzy
Kill
Just Tonight…
555
Lucky Denver Mint
A Praise Chorus
For Me This Is Heaven
Place Your Debts
Work
Painq
23
The Middle