Real Life Church Ministries Installs Ocean Way Monitors
Real Life Church Ministries Director of Broadcast and Technical Operations Kevin Watkins recently outfitted the church's broadcast mix studio in Los Angeles with Ocean Way Audio Pro2A monitors. Watkins says the monitors are the perfect size for their studio. "We wanted monitors that could push a lot of air, that sounded good at the top, sounded good at the bottom, and everything in between. The Pro2A's do that," Watkins says. "Our mixes sound great in the room, and they do what they are supposed to do—translate well and sound great outside of that room."
---
Tetrarch Teams Up with Otero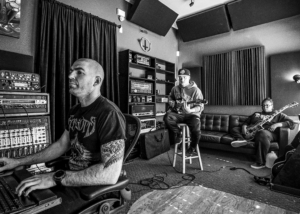 Josh Fore (left) and Diamond Rowe (right), two members of the Atlanta metal band Tetrarch, lay down some riffs with producer Dave Otero at Flatline Audio in Denver, CO. The band is making noise of late, aided by the presence of Rowe, who recently became the first Black female metal guitarist in a major industry publication with recognition in Guitar World, PG and Guitar Player. Tetrarch's sophomore album will be released in the fall.
---
Taylor Sets the American Standard
Legendary singer-songwriter James Taylor (far right) recorded two tracks for his 19th studio album American Standard at United Recording Earlier this year. Recorded and mixed by Dave O'Donnell (far left), the album features influential American pop songs and jazz standards from the early 20th century.
---
The National Parks Find Their Wildflower at June Audio
Folk/pop bad The National Parks recently gathered at June Audio Recording Studios in Provo, UT, to finish up their fourth studio album, Wildflower, which was released on June 19. The album was produced and mixed by longtime collaborator Scott Wiley. Pictured (l-r): Megan Parks (violin), Brady Parks (guitar, vocals), Cam Brannelly (drums), Sydney Macfarlane (keys, vocals).
---
Archuleta Holds Therapy Sessions in the Studio
Singer-songwriter David Archuleta took to the studio earlier this year to put the final touches on his newest album, Therapy Sessions, which released on May 20. Archuleta's career launched after his memorable stint on American Idol in 2008 when he was 16 years old that ended in him taking second place to David Cook. He has released eight studio albums since, including Therapy Sessions. This photo was taken from a recording session at Solarium Studios in Alpine, UT.
---
Wunder Gets Funky in Stockholm
Versatile Swedish artist Sven Wunder recently laid down tracks with a lute at his personal studio in Stockholm, Sweden. Wunder typically flies under the radar, but is gaining recognition for his blending of different ethnic styles and use of unique instruments over mysterious, but groovy, funk beats. This photo was taken from a session during the recording of his yet-to-be-titled 3rd EP. His second EP, Wabi Sabi, was released on June 12, and his first EP, Eastern Flowers, has gained high praise from publications like Passion Weiss and Pitchfork.
---
Iration Brings Summer Vibes to EastWest Studios
Santa Barbara, CA-based reggae band Iration are releasing their seventh full-length album, Coastin', on July 10. Lead singer Micah Pueschel (left) and guitarist Micah Brown (right) put the cap on a long day of recording after a recent session at EastWest Studios in Los Angeles. Brown and Pueschel are just two of the six-piece outfit, which has found much commercial success throughout their 16-year existence, especially with their albums Hotting Up (2015) and Automatic (2013), which both peaked at #1 on Billboard's Reggae Albums Chart.
---