The International Songwriting Competition (ISC) has announced its 2020 winners. Established in 2002, ISC is the world's largest and most prestigious international songwriting competition, receiving more than 26,000 entries from 158 countries in 2020. More than $150,000 in cash and merchandise is awarded to 71 winners in 23 categories covering all genres of music.
ISC's highest honor, the overall Grand Prize, is awarded to the Swedish folk-pop duo Smith & Thell (comprised of Maria Jane Smith and Victor Thell) and songwriter/producer Peter Kvint for the song "Goliath." This is the first time in the history of ISC that the Grand Prize has been awarded to Scandinavians. The Grand Prize consists of $25,000 in cash (USD) and over $40,000 in additional prizes.
"We've always written about our real stories and our real life history. It's always beautiful to be acknowledged for telling your own, real-life story," said Smith & Thell. "'Goliath' is about facing your fears and learning that no challenge is too big to handle. It's an honor to hear that the message of the song reached through to the jury and to win this prestigious award especially during these challenging times."
GRAND PRIZE WINNER: SMITH & THELL AND PETER KVINT
"GOLIATH"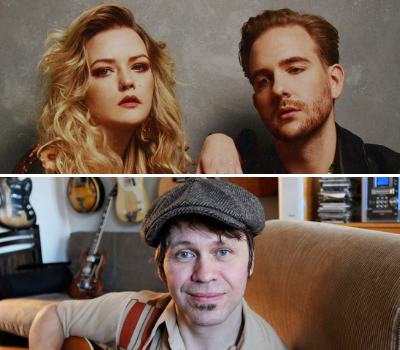 Smith & Thell met as teenagers at a music event in their hometown of Helsingborg, a coastal town in southern Sweden and began to write songs together, both for themselves and other artists. They are no strangers to Swedish fans as many of their singles, including the ISC-winning song "Goliath," have topped the Swedish radio charts. They premiered "Goliath" at the Swedish Grammis Award show where they took home the award for the 2019 Songwriter of the Year. The song (from their 2021 album Pixie's Parasol) delivers a message of hope, determination, and perseverance. Although it was written in response to a year that was particularly challenging for them personally, the song's impassioned and uplifting themes are universally shared in light of recent events throughout the world. They described "Goliath" as their anthem for the underdog, saying "No one is too small to make a difference. A reminder to us all that we're so much stronger than we think." Their co-writer, Peter Kvint, is one of the most sought-after and successful songwriters and producers in Sweden, having written and/or produced many international, chart-topping hits for global artists such as Britney Spears, Heather Nova, Natasha Bedingfield, and Trace Adkin, as well as numerous Swedish artists.
"Music is remarkable in that it can change the way you see the world. The song "Goliath" does just that and is relevant to everyone personally, as we all have struggles to overcome. The message is one that everyone can relate to and is one of those anthemic songs that makes you feel good and uplifted. Additionally, the the song is perfectly crafted and is ear candy with a chorus that sticks in your head long after the song is finished," said ISC Founder and Director, Candace Avery.
Throughout the history of ISC, many winners have gone on to successful music careers, making ISC a leading resource for music industry professionals to find new talent. Previous winners have included: Tones and I; Illenium; Vance Joy; Bastille; Fantastic Negrito; R.LUM.R; Gotye; Dustin Lynch; Lindsey Stirling; Kimbra; Faouzia; The Band Perry; Kehlani; Gregory Porter; Passenger; Gin Wigmore; Missy Higgins; For King and Country; Adrianne Lenker (Big Thief); and many more.
In addition to the Grand Prize winner, many other deserving songwriters also share in the prestige and kudos of winning their respective categories in ISC. These winners hail from all over the world (56% of this year's winners come from outside the USA) and represent diverse cultures while ranging from talented amateurs to seasoned songwriting veterans. The 23 categories include all genres of contemporary music, from Pop to World Music to Country to Instrumental, and many more.
---
The following is a complete list of ISC judges:
Recording Artists: Dua Lipa; Bebe Rexha; Coldplay; Tom Waits; Linkin Park; Trevor Daniel; Nancy Wilson (Heart); Tanya Tucker; Cam; Kristian Bush (Sugarland); Laura Pausini; Arturo Sandoval; American Authors; Sara Evans; Keane; Sidewalk Prophets; Danilo Perez; Jack DeJohnette; Above & Beyond; James McNally (Afro Celt Sound System); Easton Corbin; Krewella; Camila; Robert Randolph (Robert Randolph & The Family Band); Dave Koz; Joe Louis Walker; Gordon Goodwin; Sam Feldt; Sugaray Rayford; Charles Lloyd; Nicholas Gunn; Ashwin Batish; Lonnie Liston Smith; Jimmy Pardo; Margaret Cho; and Steel Panther.
Industry Executives: Omar Grant (Co-President, Roc Nation Records); Kenny Weagly (President, A&R and Label Services Worldwide, ADA Worldwide, and President, East West US); Daniel Glass (President, Glassnote Records); Ed Vetri (President, Wind-Up Records); Bruce Iglauer (Founder/President, Alligator Records); Kate Labrel (VP of A&R, Warner Records); Nate Albert (Executive VP of A&R, Capitol Records); Jacob Edgar (Founder, Cumbancha); Richard Stumpf (CEO, Atlas Publishing); Kim Buie (VP of A&R, New West Records); Samantha Jervey (Director of A&R, Capitol Christian Music Group); Dahlia Ambach Caplin (Sr. VP, Verve Label Group); Golnar Khosrowshahi (President, Reservoir Media Management); Cory Robbins (Founder/President, Robbins Entertainment); Julie Kertes (Editor/Manager, Hot Diggity Media); Leib Ostrow (Founder/CEO, Music For Little People); Katherine Dines (Co-President, The Children's Music Network); Claire S. Green (President, Parent's Choice Foundation); Benjamin Groff (Founder, The Brill Building); Marni Greenberg (Head of Music Communication, YouTube); Tamara Conniff (EVP, Roc Nation); Carl Caprioglio (Founder/CEO, Oglio Entertainment); and Elena Epstein (Director, National Parenting Product Awards).
The list of categories to enter includes: AAA (Adult Album Alternative); AC (Adult Contemporary); Americana; Blues; Children's Music; Comedy/Novelty; Country; EDM; Folk/Singer-Songwriter; Christian; Instrumental; Jazz; Latin Music; Lyrics Only; Music Video; Performance; Pop/Top 40; R&B/Hip-Hop; Rock; Teen; World Music; Unpublished; and Unsigned Only.
Click here to see the complete list and to hear the winning songs.