Along Comes The Association: Beyond Folk Rock and Three-Piece Suits, is the autobiography co-written by founding member Russ Giguere with Ashley Wren Collins and published by Rare Bird Books. The foreword is penned by David Geffen.
"Researching this book and working on it with Russ and seeing and understanding all the pieces of America's cultural and music puzzle that began and intertwined starting in the 1960s – I really came to appreciate just how much rock and roll owes to The Association," offered collaborator and award-winning author, Collins. "My hope is that comes across to our readers.
"Working with Russ on the book, and talking with him and all of the guys in the band, as well his peers in the music industry like Henry Diltz (Modern Folk Quartet), Bernie Leadon (The Eagles), Danny Hutton (Three Dog Night), and too many more to name – it was like being let into the locker room of who's who in American rock and roll. Music is what it is today because these trailblazing guys paved the way. The Association opened up major concert venues whose doors were previously closed to the sounds of rock and roll. But for The Association, they opened up their doors…and the audiences came in droves, and the reviews were raves. The Association had a wide appeal and an enduring sound spanning a wide audience. There's a reason they are still touring today!
"Working with Russ on this book was an adventure and a trip (sometimes a literal one for Russ) down memory lane. As he began to piece together memories, some of them fifty years old, I would get many voicemails from him, sharing ideas, notes, and stories he wanted to talk with me about the next time we spoke. Sometimes the messages included names and phone numbers of his famous friends he wanted me to interview. JD Souther was even inspired to write something for the book, and David Geffen agreed to do the foreword. But by far, my favorite voicemail that I had saved for several years was one where Russ confessed that when he was doing drugs, he and a very famous singer I cannot name here – shared the same cocaine dealer! I would listen to that voicemail and laugh.
"True artists – in Russ and The Association's case – musicians – their work is effortless. To the naked eye or ear, their work appears easy. So with The Association, I think sometimes people listen to their music and they want to discount them because they think, 'Anyone can do that.' Wrong. It takes incredible skill and talent to do what they did. I loved hearing Danny Hutton (Three Dog Night), Bernie Leadon (The Eagles), and Henry Diltz (Modern Folk Quartet) go on and on in their interviews about how challenging The Association harmonies were and how you couldn't simply recreate their sound and how much respect they had for them."
"The Association opened the Monterey International Pop Festival," volunteered musician and photographer Diltz to me in a 2008 interview.
"John Phillips introduced them. I knew them very well. They were friends of mine. Fantastic. The Association always blew my mind. I had a four-part harmony group, the MFQ (Modern Folk Quartet), and we played all around the country. There wasn't that much four-part harmony going around, mostly three-part groups, the Journeymen, Peter, Paul & Mary, and I saw John in The Journeymen at the Troubadour, a year before I ever met him. I had met John Stewart in the Kingston Trio over there in Hawaii when I was going to school and singing in a coffee house. In the Association was Jim Yester, who was the brother of Jerry Yester, who sang with me in the MFQ, and they came out of the Men, who developed at the Troubadour, and the Association wanted to take our four-part harmony and go further with it. It's not a secret-we were kind of an inspiration for that. I liked their smooth velvety sound."
Along Comes The Association: Beyond Folk Rock and Three-Piece Suits is a fascinating book, an accurate and visual portrait of the Los Angeles and Hollywood music world of the sixties. As a teenager in West Hollywood I'd encounter musicians of the Association in my neighborhood at various food haunts and local clubs.
I attended many of their memorable 1967-1972 shows, including the Festival of Music at the Hollywood Bowl on November 19, 1967 with The Who, Eric Burdon & the New Animals, Sopwith Camel, The Sunshine Company and The Everly Brothers. It was a Sam Riddle Production. Tickets were free along with a purchase of an LP at all Southern California White Front department stores who sponsored it with record labels MGM and Warner Bros
I bought the debut Jimi Hendrix Reprise album at the White Front in Culver City and got second row box seats. I went with David Wolfe, a friend from El Marino elementary school. The Festival of Music also did the Cow Palace venue in San Francisco that same week.
In reading Russ Giguere's book, I've finally learned the backstory of a band that contained the ideal vocal combination of two tenors, one bass, and three baritones weaved around the right amount of instrumental sound.
Giguere's illustrated text chronicles his fellow group of melodic troubadours as they became a highly influential pop group who created unparalleled music, unique to their time and place - and never again to be repeated. It's an important saga about a six-man band that should be examined more thoroughly and cherished.
In 1964 Giguere joined a folk-rock group called The Men that incubated out of a Hootenanny Night at Doug Weston's Troubadour in West Hollywood. Russ sang and played rhythm guitar, serving as an integral part in The Association's sound for the next six years.
More than fifty years later, The Association's songs rank among BMI's Top 100 Songs of the century.
---
Danny Hutton, Three Dog Night: 
"Russ and The Association were multi-talented, intelligent men who played beautiful, melodic music, harmonized like angels, dressed like Cary Grant and partied harder than the Rolling Stones!"
Bernie Leadon, The Eagles:
The Association came out of the folk era, so they were more a pop vocal group than a rock band. But they were very influential, and sounded very fresh in the sixties. I loved them, on record or live!"
Elaine "Spanky" McFarlane, Spanky and Our Gang:
"Listening to The Association singing 'Requiem for the Masses' put me into harmony heaven."
---
Harvey Kubernik Interview with Russ Giguere

HK: Why did you decide to write your autobiography?

RG: To put out the truth. I read so much bullshit about the band, flat-out lies. And I've read some truth about the group but overall there's never been anything that gave the readers the real story. I collected more vintage items related to the band than anyone else and always kept posters and some photographs. In the book there's a list of all the bands and acts that the Association played with from 1965 onward.
I had a co-writer Ashley Wren Collins. We had many interviews with all the guys that are living. She organized it. I had some suggestions for her as well, that we begin with a tale about me being busted for truancy at Hoover High School in San Diego.
We also talked with Danny Hutton, JD Souther, Tommy Smothers, Mark Lindsay, Bernie Leadon, Gary Puckett, Elaine "Spanky" McFarlane. Henry Diltz, Bob Stane of The Ice House, Mason Williams and Cyrus Faryar of the MFQ.
I met Roger McGuinn when I was working at the Ice House for Bob Stane as a light and sound technician in 1964 and I coordinated many hootenanny nights. Roger (then known as Jim McGuinn) was a solo act and playing a tune by the Beatles. And I remember him saying, regarding the music, "This is finally the combination between art and money."
I hadn't considered writing about myself. I was just going to cover the group. My literary agent [Charlotte Gusay] and co-author Ashley said "you have to write about yourself." Once I started doing that, it became sort of interesting.
There's sadness in this book…People have passed on. But I don't dwell on it or think about it. They were there. Luckily, Pat Colecchio who managed us wrote me a ten page double-sided letter before he passed. So I acquired much of this info for the book directly from him. David Geffen wrote the foreword to the book. He signed us at that time when he was an agent at the William Morris Agency.
Q: When the Association first formed, evolving from a group called The Men, did you know you had something special? I'm referring to the 1965-1966 period. Your sound was developed in a rehearsal hall on Larchmont Blvd. which is now a yoga studio. Frank Zappa visited the space.
A: Zappa knew Terry Kirkman from playing together at the suburban coffee house scene. Frank asked Jules Alexander and I to join the Mothers of Invention. Jules told him we were into something too good to let go just yet. When we started, we sort of knew what we were doing… but we gave ourselves two years to have a Top 40 record. So it took us a year and a half.
Arranger Clark Burroughs arrived at our house I answered, "Aren't you the Hi, of the Hi-Lo's?" He replied, "I have a song for you guys, 'One Too Many Mornings.' Clark had this interesting arrangement idea. We just started working on the tune immediately.
On "Along Comes Mary," Jules Alexander of our band played bass on the original demo. We had a group house where four of us lived. Jules came back that night with a demo and exclaimed, "Listen to this record!" He put it on. Holy moly. What a song, it was like nothing we had ever heard. Tandyn Almer wrote it.
Later we would vote on songs but this was the only one we never voted on. We decided Jim [Yester] would sing the lead. We worked with Curt Boettcher who was a sensitive vocal arranger. Our first album we recorded with two 4-track machines in sync, to make it 8-track.
Q:In your book, I dig the attention to detail and the memories paraded.
A: I have good recall, and the guys in the group told me many things. For instance, like the beginning of "Cherish." Jim Yester added hat unique ["bom, bom, bom, bom"] intro. He was driving into the Ice House club in Glendale and it occurred to him on the road and he went upstairs, immediately inspired. The guys are about to go on stage that night, right before the show Jim taught the band the intro part. I remember it clear as day. Jim doesn't remember it at all. It's a key element of the song and the arrangement.
Jim could sing. Good tenor. That's him on "No Fair At All." Jim wrote it. Nothing rhymes in that song. When Jim left the band I got to sing lead on it. A soft tune that I got to sing which I loved a lot.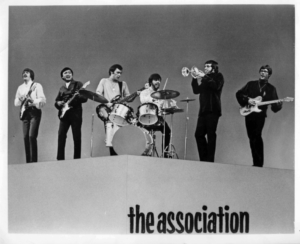 Q: I've always felt The Association has been vastly overlooked by the media and music historians, partly attributed to omnipresent east coast media bias which dilutes the appreciation of the band's rewarding legacy on recordings and live performances. You sold 70 million records, 6 gold records, and had 7 top 40 hit singles. 3 of your songs are the most played BMI licensed songs of the twentieth century.

A: There are many people in the business who never really had the proper respect for what we did. I know the impact we had. Why are we still on radio today? We had strong material with good arrangements and those were performed well. It's the power of real music. And the performances are so sincere and real. It's really that simple.

Q: Over 54 years people, fans, and record collectors have constantly asked you and band members about your catalog. These records impacted many lives. What are some of the things they mention?

A: People have been married to "Cherish." First dances at weddings. People got laid. (laughs). You get all sorts of stories. Fans speaking about friends and family members who have died where our music, and specific records, was the soundtrack to their healing. We've heard them all and know they are all true. I feel it's been invaluable.
In the nineties we were doing a concert in Detroit with an orchestra. And the conductor (during a break) wanted to talk to me. I studied conducting with Leonard Bernstein in New York, and he would greet us at the lecture room door. He had a portable record player and played "Windy," and told the room, "Now that is a perfect record." Bernstein understood what we were doing.
Q: Tell me more about "Windy"

A: Ruthann Friedman who wrote it, was a friend of ours, she gave it to us. Our manager Pat Colecchio particularly liked it, and we liked it enough to vote yes on it. We did the basic track at Western studio on Sunset Blvd. with producer Bones Howe. We'd do the music first. The vocals took a much longer time. Our tenors' voices started wearing out. My wife Birdie, Clark Burroughs' wife Marilyn and Ruthann all stepped in and helped. They're on the track singing.  By then we had 8-track recording.
The vocal on "Windy" was completely mine. While I was recording it occurred to me "that this track was really gonna kick ass, like the windy city of Chicago." Larry [Ramos] had just joined the band and I said "why don't we have Larry sing this with me?" So he came in and co-sang a lead. I also had several leads on that Insight Out album.
Initially, on "Never My Love," it was going to be me and Terry [Kirkman] doing the leads like on "Cherish." So I said, "Let's have Larry sing it with Terry and it will help establish him as a new member."
On "Everything That Touches You," that is Terry and Jim. Great bass line. Randy Sterling came up with that. He played bass on a demo session and Joe Osborn was on the recording. Ben Benay and studio musicians on dates were all union players. I understood that these guys were used doing it on the fly, on tape. We were used to doing it live, at any size concert.

Q: Talk to me about the song "Cherish." I saw the group early on and you could replicate the harmonies on stage.

A: After we cut "Cherish" the two things people would say: Would be, "when are you going to do a live album" and 'when are going to release "Cherish" as a single?' That was said for a year before it was ever recorded.  In fact, the first time we heard "Cherish," the group didn't quite understand it, and we didn't vote yes on it. Terry went and wood-shedded, and a couple of days later showed it to us again. And we all said, "Now we see what you mean!"

Q: Terry Kirkman as a tunesmith is never touted as a major songwriter in the musical press. "Cherish," "Six Man Band," "Everything That Touches You."

A: His specialty was what I call "thematic muthas," short for mothers. "Cherish," "Requiem for the Masses," he did all these great themes, along with "Enter the Young." He was influenced by Stan Kenton and jazz. He plays horn, sax. When I first met Terry, he almost always had a recorder in his belt and pockets full of harmonicas in different keys! He'd always be ready to play. Great songwriter who truly loves music.
Q: The Association was way more than a pop band.
A: It was everything. Rock 'n' roll, blues, folk, harmonies. It distinguished us from the psychedelic groups of the late sixties. We also had a rule in the band: No whining. We didn't do any music that whined. Everything in our repertoire was voted on. We covered songs and also did originals. For instance on "Never My Love" that was basically already written, all we did was add some harmonies to it.  As far as our vocals and harmonies, they were very precise.

Q: The Association opened the 1967 Monterey International Pop Festival. You weren't included in the original Monterey Pop movie but later added in an expanded DVD of the event. Tell me about a couple of things you remember about this landmark gathering.
A: At the festival we wore sport coats. I met Jimi Hendrix, we were in a food line. I had no idea who he was. We did some small talk, and then when I saw him play! It was a trio and was mind-boggling. I was in the pit. I was 15 feet away from him. Terry was about 40 feet away with Mama Cass Elliot. She said: "Terry, is he fucking his guitar?" "I think so, Cass."  Mama Cass was a good spirit in our town. Back then there was camaraderie. We used to include "California Dreamin'" in our show and we'd dedicate it to The Mamas and the Papas each time. They only did about 60 gigs in their entire career and we did about 50 of those with them.
At Monterey we saw all the acts. Ravi Shankar. When I was age 18 in San Diego, I was at a party someone put on his "Morning Raga" at dawn. I had never heard a sitar or a raga before. It was just so gorgeous. That day I bought two Ravi Shankar albums that I still have. It was like nothing I'd ever heard before or since.
So at Monterey, I already knew who Ravi was. He was wonderful. Spectacular. They built a special stage for him. He asked the audience that "no one smoke during his segment" and they didn't.
We partied as hard as the San Francisco and English bands.  As far as the summer of love goes, they were all summers of love for me. (laughs).
Q: One thing the band accomplished is that you helped open venues that later would be become more receptive or accessible to rock acts.

A: Yes. They were afraid to book rock 'n' roll, like in Chicago. We broke a record that was previously held by The Kingston Trio. We did a lot of colleges. We played the hits in our set and also included things that no one had heard. We got standing ovations 95 percent of the time in our entire careers. The secret of the live show? We were just good and tight. We rehearsed. Like with "Cherish." That was not a song you could just throw out. It took concentration.
Q: You did package tours, including one with Dick Clark. Motown acts were on the bill.

A: We toured heavy. We had played a couple of times with the Four Tops but never met them, 'cause we were on the road. We had forgotten that they had had a hit with "Walk Away Renee." So we did "Walk Away Renee" one night. And then when we were back in the dressing room, somebody said "they had a hit on this." I was elected to go back to them and apologize. So I went to the group. "Gentlemen, you've had so many hits. We literally didn't remember you had a hit with 'Walk Away Renee.'" And they said to me, "we like your version better. We insist that you do it for the rest of the tour." On that Dick Clark tour we put on something like 17,000 miles in three months.

Q: You had strong management with Pat Colecchio and a determined David Geffen as your booking agent at William Morris.
A: They both knew the power of the group. They knew that we could play anywhere. We could do any kind of room, from the Troubadour in Los Angeles, to the Fillmore in San Francisco. Pat and David liked to put us in places where rock 'n' roll had never been. We also did a lot of television.
Clothing and wardrobe sometimes defines the perception of you. There's a story in the book when we were playing a college. This one young guy interviews me and asks, "Why is your hair so short?" And I responded, "I'm not going to tell you why- and not going to answer that question 'cause it's stupid and it really doesn't mean anything at all."
Then later, I'm taking a break. I walk to the back porch and this lady, a mother, walks up to me and says, "Why do you have such long hair?" Both parties got a great show.
We were booked at the Fillmore in San Francisco with the Quicksilver Messenger Service, Sopwith Camel, Grass Roots and Canned Heat for two shows in 1966. As we are ready to go on stage in our suits, everyone else is dressed like a hippie, this 17 or 18 year old girl said, "Who do you think you're kidding with those suits?" I answered, "Obviously, not you, dear." And then we went on, and literally the audience set up five or ten rows of chairs right in the front- which they never did at the Fillmore. But the audience did it themselves, not promoter Bill Graham.
I remember singing "Cherish" and right behind me, the light show projectionist was screening the movie  King Kong where the gorilla is scaling the Empire State Building."
---
Jim Yester of The Association explained in a 2008 interview we conducted: "For a long time, until the additional footage from the Monterey Pop DVD came out this century, we were left out, and no mention of The Association at the pop festival."
"It felt like we were thrown to the animals. We were the guinea pigs. They used us to get the sound system and the cameras and everything set and then left us out. (laughs). We were on the Monterey 4 CD box set 20 years ago with 'Along Comes Mary' and 'Windy.' At that time of Monterey we were hooked up with Bones Howe, who was working very closely with Lou Adler. We did a 20-minute set at the festival. The neat thing for us was that after we performed we had front row seats for the rest of the entire rest of the weekend! It was wonderful. We hung out with Paul Simon before we went on, and knew Johnny Rivers from Hollywood and Sunset Sound," recalled Jim.
"I felt the festival was a big step in healing the rift between the L.A. and San Francisco bands and it was very cool. I thought it was a great unification thing for all the California groups. I certainly felt no angst from any of the San Francisco bands. I think it had been going on when we went up there in 1965, '66, with the Beach Boys at the Longshoreman's Hall, and kind of got a cold shoulder. As far as the Monterey International Pop Festival, that was history. Listen, we were 'heads' like everybody else and just as crazy as everybody else, but we took care of business.  We stayed at the same motel as some of the bands, and right next door was Pearly. (Janis Joplin). We met her. I was blown away. She was very down to earth, played with all the kids.
"Earlier we had performed with Quicksilver Messenger Service at the Fillmore West. Moby Grape's bass player at the time, Bob Mosely, was my brother-in-law. He and I both married two sisters. In fact, Moby Grape is still one of my favorite groups. I just love their first album. Moby Grape at Monterey…I loved their presence, their movement, how they all moved back and forward together, lot of high energy. I thought they were great. Peter Lewis and Bob Mosely were from Southern California.
"At Monterey everyone was very friendly. And we were still in our 'suit mode' like the Beatles had started out. In fact, we opened the door for other bands that previously never got booked being self-contained rock music bands. We did 62 major TV shows in three years. Our vocal blend at Monterey could really be heard over that sound system. And we had played major civic auditoriums like that, and been exposed to that. We had played the Ventura County Fairgrounds with the Beach Boys early on in 1966 as 'Along Comes Mary' came along.
"Just after Monterey, we did a show at the Hollywood Bowl, and the next night at the Cow Palace in San Francisco, with some of the bands from the Monterey festival, including The Who and Eric Burdon and the Animals. The Everly Brothers, and Sopwith Camel were on the bill. The Hollywood Bowl show was hosted by Sam Riddle and White Front. In fact, the gal who was at that show, Miss White Front, later on became my wife. (laughs). Initially she hooked up with our drummer, because I was married, and several years later she and I hooked up and we ended up getting married. (laughs).
"I don't know if it was because of Monterey, or that package, but we ended up playing with The Who a lot. We did several mid-west swings, us and The Who. Boulder, Colorado, several theater in the round things. You know, we were just different enough to be really neat and not competition with each other. We toured with the Mamas and Papas. We were the first group that Bones Howe had ever produced, and he had engineered the Mamas and Papas. And based on that our manager got us to seek him out and that started that whole thing.
"The thing was, after Monterey, we got invited to do Woodstock, but our manager turned it down because he thought we lost too much money being somewhere for three days, not performing. We were doing 280 dates a year on the road at that time."
---
Harvey Kubernik is the author of 16 books. His literary music anthology Inside Cave Hollywood: The Harvey Kubernik Music InnerViews and InterViews Collection Vol. 1, was published in December 2017, by Cave Hollywood. Kubernik's The Doors Summer's Gone was published by Otherworld Cottage Industries in February 2018.  It was nominated for the 2019 Association for Recorded Sound Collections Awards for Excellence in Historical Recorded Sound Research.
In November 2018, Sterling/Barnes and Noble published Kubernik's The Story of The Band From Big Pink to the Last Waltz. During 2020, Harvey and Kenneth Kubernik are writing a multiple voice narrative book on Jimi Hendrix for Sterling/Barnes and Noble scheduled for publication September 15, 2020.
In 2020 The National Recording Registry at the Library of Congress in Washington, D.C. are exhibiting a Harvey Kubernik essay on the landmark The Band album, which celebrated a 50th anniversary edition in 2019.
Kubernik's 1995 interview, Berry Gordy: A Conversation With Mr. Motown appears in The Pop, Rock & Soul Reader edited by David Brackett published in 2019 by Oxford University Press. Brackett is a Professor of Musicology in the Schulich School of Music at McGill University in Canada. Harvey joined a lineup which includes LeRoi Jones, Johnny Otis, Ellen Willis, Nat Hentoff, Jerry Wexler, Jim Delehant, Ralph J. Gleason, Greil Marcus, and Cameron Crowe.
Kubernik's 1996 interview with poet/author Allen Ginsberg was published in Conversations With Allen Ginsberg, edited by David Stephen Calonne for the University Press of Mississippi in their 2019 Literary Conversations Series.
This century Harvey wrote the liner note booklets to the CD re-releases of Carole King's Tapestry, Allen Ginsberg's Kaddish, Elvis Presley The '68 Comeback Special and The Ramones' End of the Century.
In 2020 Kubernik served as Consultant on a new 2-part documentary Laurel Canyon: A Place In Time. Alison Ellwood is the director who helmed the History of the Eagles. Premium television network EPIX debuts it on Sunday, May 31st at 10 p.m., and conclude the following Sunday, June 7th at 10 p.m.).