As major and indie labels continue to sign new talent to their rosters, MC's Signing Stories area has maintained its prominence as a go-to place for invaluable insights and advice about how to get signed and what artists can expect from the experience. Here, then, are some of the more instructive signing sagas we published during 2020.
---
Marcus King
Label: Fantasy Records/Easy Eye Sound
Type of Music: Blues/R&B/Rock
Management: AMFM Management
Booking: WME
Legal: Kent Marcus
Publicity: Doug Hall, [email protected]
Web: marcuskingband.com
A&R: Joe McEwen
Marcus King's signing story is a classic example of a budding artist who realized he had a lot to learn if he was ever to realize his dreams. King attended high school in South Carolina, worked odd jobs and gigged with bands on weekends. "I was getting a lot of experience and trying to work my way into the clubs," he recalls. "I hired a band that was all older musicians and professional cats. I'd work out deals to allow bands to be my chaperones. In those early days it was a lot of movin' & shakin' and learning a lot of lessons too."
When he was barely 18, he formed the Marcus King Band and toured relentlessly. One night they had the opportunity to play in Nashville for a "New Faces" showcase. Fantasy Records A&R rep Joe McEwen was in the audience and signed them on the spot. Says King, "I had it very clear in my mind at a young age that the only person who could hold me back would be me."
After three albums, King stepped out for a breakthrough solo debut, El Dorado, in January 2020, on the Black Keys' Dan Auerbach's Easy Eye Sound imprint. Explains King of working with Auerbach and company, "They helped me build a record around a story that needed to be told on my behalf." •
---
Lil Tjay
Label: Columbia Records
Type of Music: Hip-Hop
Management: Clayton Barmore, Deon
Douglas
Booking: Jordan Stone - APA Agency
Legal: Jeffrey Seth Koenig, Esq. - Serling Rooks Ferrara McKoy & Worob, LLP
Publicity: [email protected]
Web: liltjaymusic.com
Lil Tjay's signing story is remarkable for how quickly he developed into a signable act, one that would go on this year to be a platinum-seller with his debut album, True 2 Myself, on Columbia. When we asked him about his speedy success, Tjay told us he always knew it would happen. "I started making music, like, two years ago, and I knew it could be for real before I even started. I always felt like I could do it."
His self-confidence has been validated by the new 17-track album, featuring guest appearances from Lil Wayne, Lil Baby, Jay Critch, Lil Durk and Lil Tjay's label-mate, Rileyy Lanez (and if that sounds like a lot of Lil's to you, you're not alone).
His streetwise style brought him to the attention of Columbia Records, and they couldn't ignore him. "I literally was thinking of different labels and mentioned them in conversation," Tjay says. "I just trusted it. My name was bubbling up in the streets—that's how they heard of me." •
---
Baby Goth
Label: Republic Records
Type of Music: Pop
Booking: Paradigm
Publicity: Amaiya Davis
Web: facebook.com/babygothofficial
As web apps have become a potent force in the music world, more than a few artists are making a DIY splash on platforms such as Instagram. "I've always wanted to do music," says Baby Goth, "so I started using Instagram as a platform to do covers, so I could get a reach. That opened up doors where I could take more of a professional approach to my career."
Yes, social media seems to be the route to success nowadays––becoming an influencer and getting that reach. Still, Baby Goth was surprised by the success of her self-titled debut EP. "That was unexpected," she says. "I'm lucky to be able to do what I want to do for a job. All the people I met working with Trippie Redd––we even did some records that aren't released with Diplo––so I just met some really cool people and fed off of their artistic energy and methods."
That EP came out on Republic Records, a label she chose because they were supportive from the beginning. It's certainly a long way from living in Colorado, unsigned, recording covers to post online.
"I ended up picking Republic because I felt they were really supportive of what I wanted to do and not what they wanted me to do," she says. "They told me, 'Everything that you are, we're going to amplify it,' and I love that." •
---
Fires In The Distance
Label: Prosthetic Records
Band Members: Kristian Grimaldi, guitar, vocals; Craig Breitsprecher, bass, vocals; Kyle Quintin, drums; Yegor Savonin, guitar, keyboard
Type of Music: Melodic Death Metal
Legal: John Mason - Copyright Counselors
Publicity: Becky Laverty, [email protected] sicpress.com
Web: firesinthedistance.com
A&R: Steve Joh, [email protected]
It's 2020. And you're probably sheltering-in-place. If you don't have a full album ready to shop, what exactly are you waiting for? Take Fires in the Distance, for example. As bassist Craig Bretsprecher explains, having a package ready to release likely played a role in their signing to metal label Prosthetic Records. "We already had the artwork ready to go, the CDs pressed. ... They didn't really have to take on a whole lot of risk, because this album was definitely coming out."
And since the band had already funded the production of their debut LP, Echoes From Deep November, they could use the label's advance money to reinvest in the album's marketing and boost their live stage presence, and so on.
But how did the band connect with the label in the first place? "I noticed Prosthetic followed us on Instagram," Bretsprecher amusingly admits. "I was like, 'I think I should hit these guys up!'" Prosthetic's A&R rep Steve Joh confessed he was a fan who pre-ordered the album based on friends' recommendations. Bretsprecher seized the moment and sent Joh a Dropbox link of the finished album. Not long after, Prosthetic drafted Fires in the Distance a three-album contract.
Before signing, the group consulted with a contract attorney and a signed band to look over the offer. Explains Bretsprecher, "If the label wants to sign you, you're not gonna turn them off by asking questions or understanding it. A contract in its nature is a commitment. And while you may be excited in the moment, I think it's really important to take a step back. ... It's one of the most exciting signatures you could put on a piece of paper, but I think it's all the more important to keep yourself grounded and level, so everybody involved in that contract is getting what they're looking to get out of it." •
---
Chika
Label: Warner Records
Type of Music: Rap/R&B
Management: Elena Awbrey - Tiger Eye Management
Booking: Caroline Yim - CAA
Legal: Julian Petty - Warner Records
Publicity: Aishah White - Warner Records
Web: officialchika.com
A&R: Chris Morris and Norva Denton - Warner Records
Los Angeles-based Alabama transplant Jane Chika Oranika was determined to pursue music since childhood. She taught herself guitar, took piano lessons, and shared cover songs on YouTube from age nine. Eventually she earned a scholarship to attend Berklee College of Music.
A 2016 post, following Donald Trump's election, brought 17,000 followers and her video blasting Kanye West's support of the president also went viral. "Once you have an audience," she says, "you need to understand why they followed you," and she continually challenged herself to keep writing and improving her craft.
Chika's confidence led her to the Calvin Klein #MyCalvins campaign in Spring 2019, followed by the single, "No Squares." Performances at Coachella and on Jimmy Kimmel LIVE! came soon afterward. She then toured Los Angeles, visiting labels to find the best fit, which turned out to be Warner Records. She knew what she wanted and an agreement was crafted around creative license and artistic support.
"There is power in building your brand," Chika says, "especially when it comes to getting signed, because the artist development is done. There is a mutual respect and you will get a fairer deal simply because they assess the fact that you could do this by yourself, so if you're going to do it with them, they had better make it worth your while." •
---
Blood Fire and Rainwater
Label: Redact Records/Universal Music Group
Band Members: Jack Rainwater, guitar, vocals; Tony Dauley, drums, percussion
Type of Music: Blues/Rock
Publicity: Amy B. Taylor, delilahentertain [email protected]
Web: redactrecords.com
A&R: Christopher Haley
The 2020 Redact Records release Don't Hoodoo Me by Blood Fire and Rainwater is not singer-songwriter-guitarist Jack Rainwater's first rodeo. The Seattle-based band, which also features drummer Tony Dauley, delivers raw and vitriolic blues-rock with road-tested bravado. Both Rainwater and Dauley have honed their craft in nightclubs and dive bars since the early '80s. "I knew Tony through the rockabilly and car club event scene," says Rainwater.
Rainwater partnered with long-time friend and Redact Records label head Christopher Haley. When he began recording tracks at Haley's studio he had no idea what direction the music would take him. "I was going through a breakup and Chris said, 'I bet you've got a couple songs in you. Let's record a couple tracks,'" recalls Rainwater. "After we got about three or four songs in, it just kind of happened organically. We had a little money to throw at a record and so did he. So, it started as a couple friends working on a project and evolved into this band."
Haley was so impressed by how the recording sessions were going with Rainwater and Dauley that he offered to debut Blood Fire and Rainwater as his label's maiden voyage. With all the in-house promotion and full-service production from Redact, and distribution by Bungalo Records/Universal Music, the duo was on their way.
"I've toured in vans and sold merch at shows for years. But after a while you tend to play to the same people and top out. There's got to be someplace else to go to reach new people and spread that love," opines Rainwater on the decision to go with a major label. "I wanna get my music in the hands and ears of as many people as possible. All you really have in the music industry is your legacy, and what you create." •
---
Christopher Tin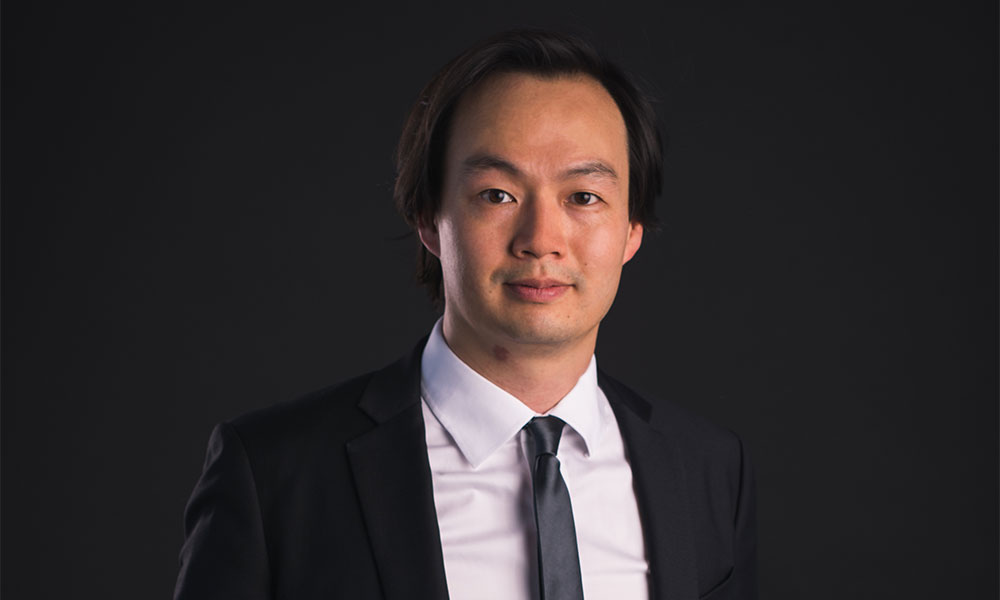 Label: Decca Gold
Type of Music: Classical
Management: Claire Long - Music Productions, Ltd.
Booking: Claire Long - Music Productions, Ltd.
Publicity: Ashley Natareno - Decca Gold
Web: christophertin.com
A&R: Graham Parker and Lynn Lendway - Decca Gold, Ltd.
Two-time Grammy winner Christopher Tin wasn't looking for a record label. Indeed, he didn't even need one. Instead, he independently crowd-funded and released albums under his name. Beyond that, his artist career remained supplemental to demand for his skills as a choral and orchestral composer for film and video games.
Then Tin signed with Music Productions, Ltd., a management team based in the U.K. The firm's Claire Long and Meg Davies determined the Chinese-American conductor had promise as a major-label artist and floated Tin by Decca Gold, the classical-focused division of Decca Records owned by Universal Music Group.
"I'm the type of person who likes to swim within a large ocean," he discloses. "And the idea of working with other Decca artists really appealed to me."
Cleverly, Tin accompanied demos of his new material with a detailed description of his newest album's conceptual framework. Combined with his social media engagement, independent output and raft of awards, the move made him an irresistible addition to Decca's roster. "Specifically in the classical world, unless you have a concept, it's very hard to market an album," Tin explains. "A project based around a theme, story or idea gives a lot more angles for the press team to run with."
Tin came to the negotiating table with specific ideas regarding the contract's structure. Still, Tin acknowledges the difference between what he knew and what he thought he knew. "My concept of how one puts out a release has been completely turned on its head," he states. "You look back on how you did things before and say, 'You knew nothing. This is how things are really done.'"
Tin's Decca debut album, To Shiver the Sky, debuted on Aug. 21st. •