Presented by Merlin, the A2IM Libera Awards provide a platform for independent artists to honor the resilience, vision, and talent of their peers. This year featured performances as well as wins from indie rocker Phoebe Bridgers, three-time Grammy-winning Black roots artist Fantastic Negrito, and breakout British artist Arlo Parks. The show streamed exclusively on A2IM's official YouTube channel.
The 2021 ceremony, produced by The Control Room and held virtually for the second year in a row, also saw a stunning performance from soul and gospel legend Mavis Staples, who was honored with the Independent Icon Award. In addition, the founders of Stax Records were honored with the 2021 Lifetime Achievement Award, which was accepted by former co-owner Al Bell, co-founder Jim Stewart, Doris Fredrick, daughter of co-founder Estelle Axton, and Deanie Parker, former record executive and Stax Records spokeswoman.
Concord, the owner of Stax Records, has generously pledged to raise $1M in scholarships over the next five years for Stax Music Academy (operated by the Soulsville Foundation and home of the Memphis-based Stax Music Academy Rhythm Section, which delivered a powerful performance at this year's awards).
Sweet Relief returned as A2IM's official charity partner for the Libera Awards, donating 100% of proceeds raised during the show to career musicians and music industry professionals in need.
The 2021 A2IM Libera Awards were presented by Merlin and also sponsored by ADA; Amazon Music; Spotify; YouTube Music; Ingrooves; The Orchard; Mitchell, Silberberg & Knupp LLP; Qobuz; Redeye Worldwide; and Virgin Music.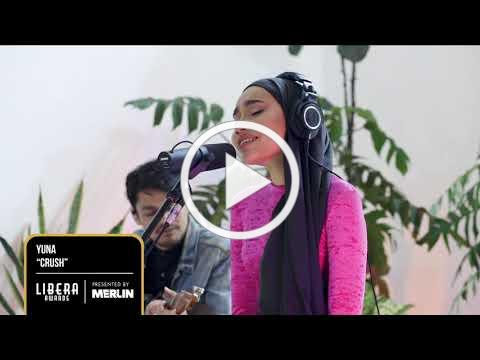 (Click above for Yuna's performance of "Don't Blame It On Love" and "Crush.")
---
Full list of this year's winners:
Best Spiritual Record
Sun Ra Arkestra - Swirling (STRUT)
Independent Champion (Presented by Merlin)
Bandcamp
Best Blues Record
Fantastic Negrito - Have You Lost Your Mind Yet? (Cooking Vinyl Ltd.)
Best Rock Record (Presented by Mitchell; Silberberg & Knupp LLP)
Fontaines D.C. - A Hero's Death (Partisan Records)
A2IM Humanitarian Award
Killer Mike & EL-P of Run the Jewels (Jewel Runners, Inc.)
Best Hip-Hop/Rap Record (Presented by Virgin Music)
Run the Jewels - RTJ4 (Jewel Runners, Inc.)
Best Sync Usage
Run the Jewels (Jewel Runners, Inc.) - "Ooh LA LA" - Season three of Netflix's Ozark
Best World Record (Presented by Redeye Worldwide)
Songhoy Blues - Optimisme (Fat Possum Records)
Altin Gün - "Ordunun Dereleri" (ATO Records)
Best Metal Record
Architects - "Animals" (Epitaph Records)
Best Classical Record
Erik Hall - Music for 18 Musicians (Steve Reich) (Western Vinyl)
Creative Packaging
Soccer Mommy - Color Theory limited edition back to school binder (Loma Vista Recordings)
Best Country Record
Waxahatchee - Saint Cloud (Merge Records)
Best Dance/Electronic Record
Caribou - Suddenly (Merge Records)
Best Punk Record
IDLES - Ultra Mono (Partisan Records)
Best Americana Record
Bonny Light Horseman - Bonny Light Horseman (37d03d)
Best Re-Issue
J Dilla - Donuts (Jelly Edition) (Stones Throw Records)
Best R&B Record
Thundercat - It Is What It Is (Brainfeeder)
Breakthrough Artist/Release (Presented by Ingrooves)
Arlo Parks (Transgressive/[PIAS])
Label of the Year (Small) (Presented by Spotify)
Daptone Records
Label of the Year (Medium)
Light In The Attic
Best Alternative Rock Record
Phoebe Bridgers - Punisher (Dead Oceans)
Best Folk/Bluegrass Record
Angel Olsen - Whole New Mess (Jagjaguwar)
Best Latin Record
Gabriel Garzón-Montano - Agüita (Jagjaguwar in partnership with Stones Throw Records)
Best Live/Livestream Act
Phoebe Bridgers (Dead Oceans)
Best Outlier Record (Presented by The Orchard)
Khruangbin - Mordechai (Dead Oceans)
Record of the Year (Presented by Amazon Music)
Phoebe Bridgers - Punisher (Dead Oceans)
Best Jazz Record (Presented by Qobuz)
Gil-Scott Heron & Makaya McCraven - We're New Again - A Reimagining by Makaya McCraven (XL Recordings)
Marketing Genius
Beggars Group - Supporting Indie Retail #loverecordstores Campaign
Video of the Year (Presented by YouTube Music)
FKA twigs - "Sad Day" (Young Turks)
Label of the Year (Big) (Presented by ADA)
Sub Pop
To learn more about the A2IM Libera Awards, visit liberaawards.com.