T.H.E. Company
tomhilbe.com
Decades Dealing and Brokering Gear: Fueled by his early passion as a blues guitar player, Tom Hilbe has worked in numerous capacities in the audio equipment industry since the late '60s. Among other endeavors, he's brokered high end audio and film gear, became the largest broker of API consoles of the '70s and owned a remote recording truck company that worked with Metallica, Pee Wee Herman and Frank Zappa.
Hilbe's two decades plus in manufacturing began in 2000, when he was involved with video broadcast companies and couldn't find enough used shotgun mics. After creating his own improved affordable shotgun mics as part of his upstart Acoustic Solutions line, he began developing studio mics and mic pres, ultimately incorporating under the name Tom Hilbe Equipment (T.H.E.) Company.
The Mission: "From buying and selling for so many years, I own a lot of vintage equipment, and with my products am always trying to achieve the classic sounds of the '50s, '60s and '70s," he says. "While many companies simply mimic products from the past, what I'm doing is 180 degrees in the opposite direction – taking inspiration from older products but putting those classic sounds and classic 'headroom' into newly built modern equipment." One of Hilbe's trademark lines is his series of Tom-Com™ products, which are manufactured to be used with professional intercom systems, wired and wireless, for the broadcast and touring industries.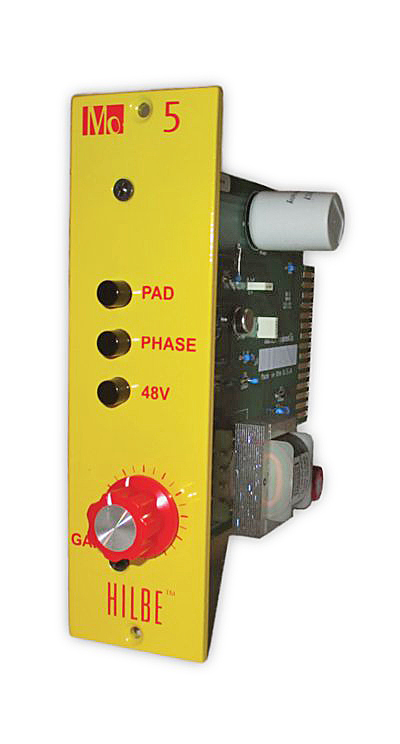 Hilbe Mo5 Mic Pre: Hilbe's Limited Edition Mo5 Mic Pre (made in Los Angeles) employs the classic Metropolitan Desk design built in house by Motown circa 1965, brokered and restored by Hilbe in 2008. In the desk restoration process for Uptone Recorders in Tacoma, WA, the mic pre design was reconfigured for 500 rack series production utilizing sourced N.O.S. Beyer input transformers (N.O.S. 709 op amps and new stock Jensen JT-123 output transformers). The Mo5 is a no frills, get down to basics mic pre whose plug in gives users the saturated sound of the original mic-pre circuit used on countless classic Motown recordings. It offers a vintage vibe and sound without the costly rack up, repair and service issues.
Hilbe Mo67: Having licensed the classic designs of the vintage audio company Melcor, Hilbe's Mo67 pre-amp has a unique modern designed employing the modern classic Melcor Op Amp, originally released in 1967. When compared to other modern model Op Amp style mic pres, the Hilbe Mo67 reflects a warmer and more musical sound, with a socket type Op Amp allowing for easy servicing. The Mo 67 is an all-discrete, solid-state transformer-balanced (in/out) mic preamp that's been described as "smooth, with a pleasing crunch when pushed." It's ideal for recreating the classic big-iron sound of the 60s and 70s - aka, the golden age of recording. Hilbe affectionately describes this piece as a contemporary throwback to "the age of innocence, the summer of love" and the user's "moral obligation." The Mo67 Melcor mic pres are currently in use at the new Warner Music in-house studios in Downtown L.A.
Contact T.H.E. Company, 213-926-7000