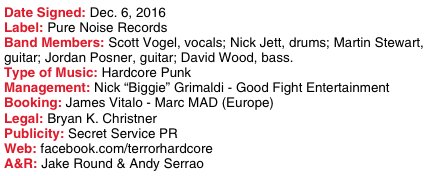 A decade and a half into their career, California-based hardcore punk band Terror are hardly likely to celebrate a new record deal like kids opening a Christmas present. That said, the fact that a whole new set of people are excited enough to back Terror's music—to offer support and new ideas––that has frontman Scott Vogel excited.
Terror formed in 2002 when Vogel, originally from Buffalo, NY, relocated to Los Angeles. As a result, Terror goes against the hardcore grain in having a sound that straddles the traditional east coast/west coast divide.
"The general attitude of the band when we started was, let's play anywhere, anytime, with anyone," Vogel says. "Let's not be too concerned about any sort of rules, and just play as hard as we can."
"To stay relevant, you have to stay in front of younger kids."
For the recording of the last four albums, Terror has been signed to Century Media, though licensed to Victory Records in the U.S. for the previous two. "Century Media is more of a metal label, and they're also a label for older people," he says. "To stay relevant, you have to stay in front of younger kids and Pure Noise is definitely a label geared to that. For us, it feels great to have that sort of push. Victory is a label that I grew up on and love a lot of their back catalog, but they've just definitely changed their sound a little where they're not pushing in the direction of a straight-up hardcore band like Terror."
Vogel says that Pure Noise has come to the table with a few ideas, and he's keen to hear them. "I don't think they're expecting to change us, but I do think they have some ideas about where to record, studios, producers and they're interested to hear demos," Vogel says. "Any outside opinions or ideas can only help. If something comes up that we're not into, we're just not going to be into it. We're not going to do a 360 and be a different band, I think everyone knows that, but we're down to hear ideas and brainstorm."
Terror's first release for Pure Noise, and the follow-up to the album The 25th Hour, will be a four-track EP that the band is currently finishing up.
Vogel says the band's fans will not have to wait long for the new music. "I would expect it to be out in April or something like that. It's still Terror. Vocally, I'm not getting crazy and too outside the box of what I've done, but there's definitely stuff on the record that's a little bit different and fresh."
Photo by Alexander Malecki
Looking for more of Music Connection's Signing Stories? Click HERE!