BOSS released the SDE-3000D and SDE-3000EVH Dual Digital Delay pedals, two advanced effect processors based on the legendary Roland SDE-3000 rackmount digital delay from the 1980s. The SDE-3000D provides two authentic reproductions of the SDE-3000 in a modern floor-based pedal with independent delay parameters, versatile signal routing, and many other enhanced features. Developed in close collaboration with EVH, the SDE-3000EVH model goes even further, providing curated presets and expanded I/O to authentically recreate the dual SDE-3000 setup at the heart of Eddie Van Halen's massive three-cabinet live stage guitar sound.
SDE-3000D Dual Delay
Released in 1983 at the dawn of the digital effects era, the Roland SDE-3000 is a hallowed icon among fans of classic gear. Its rich voice became an integral part of music in the 1980s and 1990s and remains a source of inspiration for tone seekers and effect builders everywhere. With the SDE-3000D, today's players can now access the authentic delay sounds used to produce some of the most iconic music tracks of all time.
SDE-3000EVH Dual Delay
Jointly developed by EVH and BOSS, the SDE-3000EVH delivers an authentic recreation of the stereo delays at the heart of Eddie Van Halen's live three-cabinet wet/dry/wet stage guitar sound. The legendary guitarist pioneered this approach in the early 1990s, using a dry path from a single amplifier in the center cabinet and left and right cabinets amplified with wet-only delay effects for a wide, multi-dimensional soundstage. The Roland SDE-3000 delays were perfect for his needs and remained core components of his stage rig throughout his long career.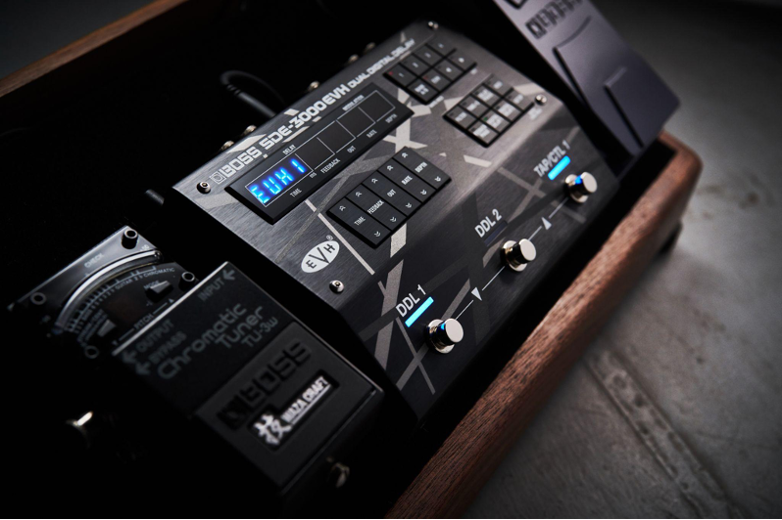 The BOSS SDE-3000D and SDE-3000EVH are available in the U.S. now for $499 and $599 respectively.
To learn more about the SDE-3000D and SDE-3000EVH Dual Digital Delay pedals, visit www.boss.info.