Stevie Wonder's 23rd House Full of Toys took place at the Microsoft Theater Saturday night (12/17).This was the first one since 2018 which took place across the street at the Staples Center. In the history of music few artists have achieved the immense success Wonder has including 25 Grammys (74 nominations), 49 top 40 singles, 32 #1 singles, and having sold over 100 million records worldwide. Wonder has also been a recipient of the Grammy Lifetime Achievement Award, is a member of the Rock N Roll Hall of Fame (youngest inductee), Kennedy Center honoree (youngest honoree), Golden Globe winner, and Oscar winner. A few performers at Wonder's benefit have included Lionel Richie, John Legend, Herbie Hancock, Common, Andra Day, and Tony Bennett. Every House Full of Toys has varied between playing full albums, 2-4 hour shows, a DJ set from Wonder (DJ Tick Tick Boom), various guest performances, Christmas classics. Fans were encouraged to bring new unwrapped toys for Wonder's charity the We Are You Foundation, and many fans did not come empty handed.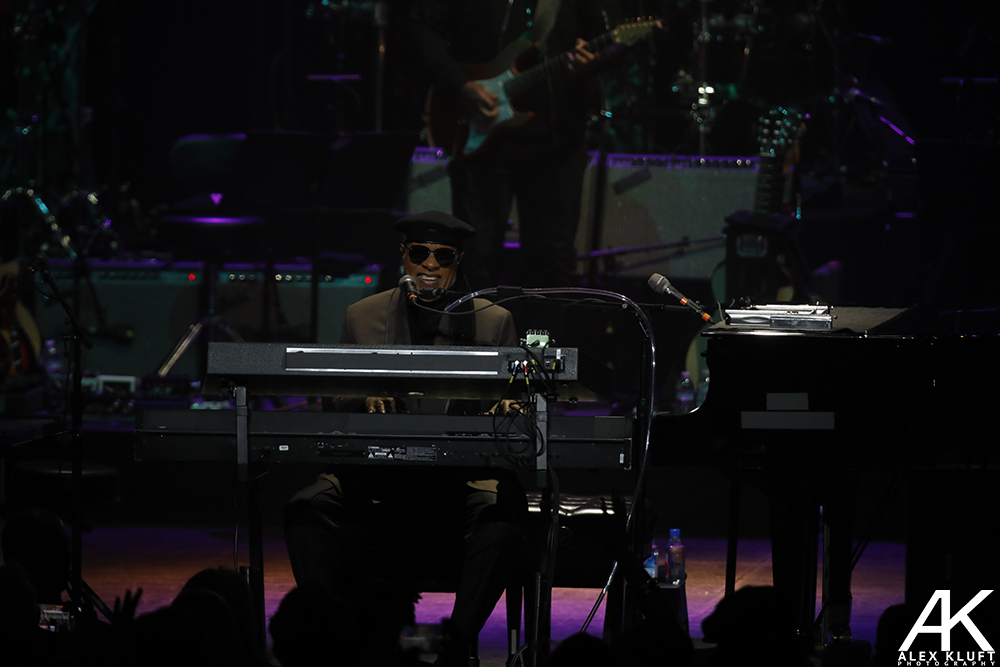 The last House Full of Toys came following the Woolsey fire and now 3 years later after the Covid-19 pandemic which has affected the whole world since March 2020. There was even more significance this year of coming together to help those in need after the pandemic left millions jobless, 1000's of permanently closed businesses and over 800,000 deaths in the U.S. alone. Just before the Covid-19 Pandemic hit, Wonder went through a kidney transplant.
This year the show began with a DJ set until Wonder stepped onstage to greet the audience with the event's musical director Rickey Minor, who was the Tonight Show with Jay Leno's band leader (2010-2014), and has served as the musical director for American Idol, Whitney Houston, Christina Aguilera, Beyonce… Wonder greeted the crowd saying "Thank you all for being here. A lot has happened in the world, my world and your own worlds. But the blessing is that we are all here to give to those less fortunate." Wonder went on to share his story of being diagnosed with blindness and how the doctors tried to give his mother hope. As Little Stevie Wonder, he signed with Motown at the age of 11 and by 13 already had a number 1 hit being the youngest artist to top the charts. Ledisi performed the first two songs of the night "What Christmas Means to Me," and "Anything for You."
After another DJ set, Wonder took the stage with his two youngest daughters Zaiah and Nia Morris for "What Christmas Means to Me." By the third song, Wonder started breaking out the hits "Master Blaster (Jammin') followed by "Higher Ground." For "My Cherie Amour," Wonder let the audience sing the opening. The song was dedicated to music icon Clarence Avant's wife Jacqueline  "It breaks my heart to know that happened to Jacqueline. As I think about their 54 years married, I dedicate this song to Jacqueline and anyone who loses their life to violence. Guns and more guns aren't the solution — quit bulls***" The show was filled with more hits like "Signed, Sealed, Delivered I'm Yours," Sir Duke," " I Wish," and closed with "I Just Called to Say I Love You," "Superstition," and "Another Star." New Edition's Johnny Gill came out to perform "My, My My." The set also included Franz Schubert's "Ave Maria," which Wonder recorded at the age of 17 on his first Christmas album Someday at Christmas and for the title track audience members were invited to come onstage to sing with Wonder. As always Wonder's band was just incredible including his long-time bassist Nate Watts, percussionists Munyuno Jackson and Fausto Cuevas, and drummer Stanley Randolph. The show came to a close at 11:30 P.M.
Someday at Christmas 17 years old
Ledisi
1.Have Yourself a Merry Little Christmas- Hugh Martin
2.Anything For you- Ledisi
Stevie Wonder Set
1. What Christmas Means to Me
2. As if You Read My Mind
3. Master Blaster (Jammin')
4. Higher Ground
5. Don't Worry about a thing
6. My Cherie Amour-Audience sang beginning
7. Overjoyed
8. Boogie On Reggae Woman
9. Santa Clause is coming to town- Harry Reser
10. Ave Maria- Franz Schubert
11. Someday at Christmas audience members
12. My My My-Johnny Gill
13. Signed, Sealed, Delivered I'm Yours
14. Sir Duke
15. I Wish
16. I Just Called to Say I Love You
17 Superstition w/ The Christmas Song covid don't mess with me
18. Another Star