The last couple of years have been extremely prolific for Grammy winning guitarist Peter Frampton. Despite ongoing health challenges, he has been spectacularly productive — performing several dates on his finale tour, completing his memoir Do You Feel Like I Do? (which debuted on the New York Times Best Seller List in 2020), releasing a blues album of all instruments (2019's All Blues) and a new solo album, Frampton Forgets the Words, performed with The Peter Frampton Band. If that's not enough, he has another complete blues album 'in the can' which is currently awaiting release, and he has also completed at least six new songs for a forthcoming solo album.
When he moved to Nashville in the mid-'90s, Frampton befriended his 'favorite engineer', Chuck Ainlay, who has subsequently worked on most of his material and who is the in-house engineer at his Studio Phenix — named after his Les Paul Custom heard on the iconic 1976 album Frampton Comes Alive. Working alongside Ainlay, Frampton has made continual refinements to capture the sonic nuance of his evocative, soulful guitar playing. One element in his signal chain that has never lost its place is the BAE 1073: "When I lived in Los Angeles 20 years ago, the very first pair of preamps I bought was from BAE, and after that I just couldn't go back," he says.
Since Ainlay has been the 'engineer in residence' at Phenix, the pair have been continually upgrading the equipment, which includes an SSL 4000 series console, several vintage microphones and 1073 rackmount units. "We've upgraded the computer and so much other stuff. It's wonderful, and probably has the best drum room in town," he says. Over the years, he has also upgraded his own home set up in parallel, which is located about ten minutes away from the studio. At home, some of his most recent upgrades include a pair of BAE 1073s and a BAE 1073D 500 series mic pre, which run into his Universal Audio Apollo interface.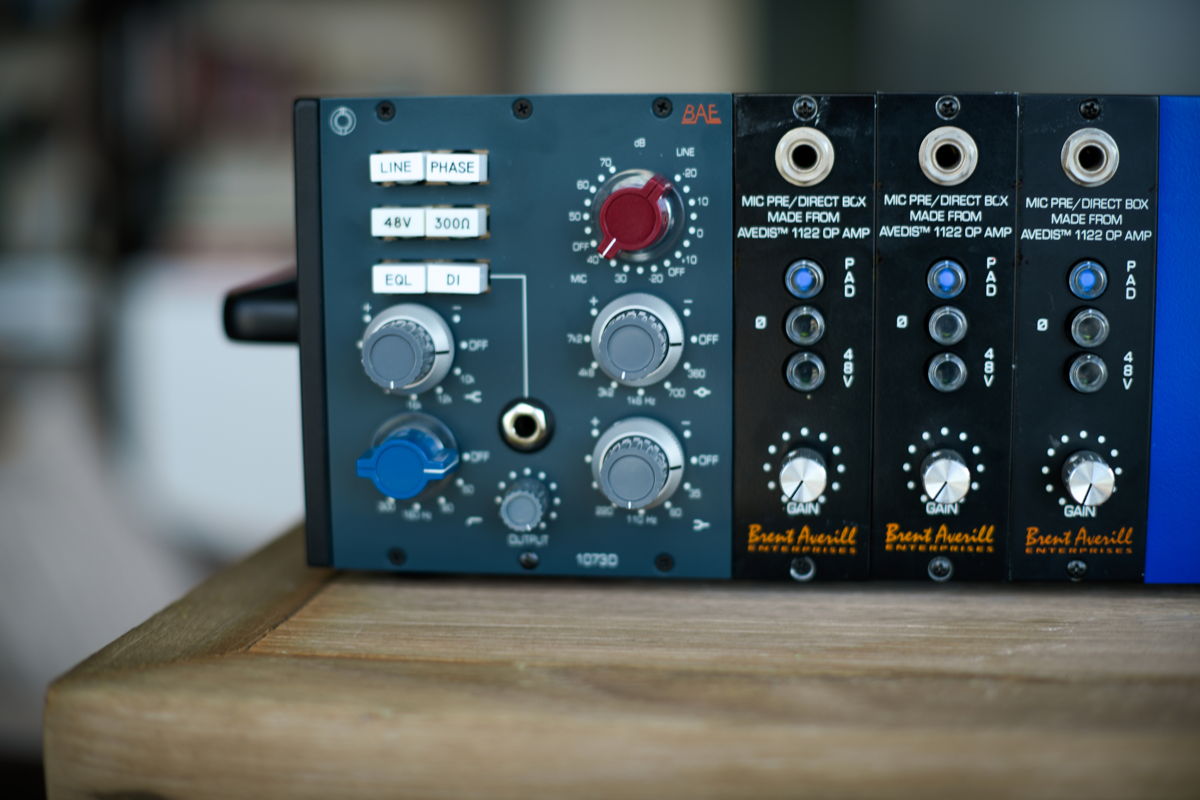 Dialing in the tone
"When I am at home, on my guitar amps I always use a U67 and a 57, exactly the same distance away from the speaker so it doesn't go out of phase," he explains. "That's a Chuck Ainlay thing that I stole, and oh my God, it's great. Those two mics go into my BAE 1073s and then straight into my computer from there. Upstairs, I also have a BAE lunchbox, which has the 500 series 1073D so I am a pig in mud my bedroom too!"
Frampton, whose 1976 album Frampton Comes Alive! has sold over 17 million copies worldwide, is old enough to appreciate classic mic pres, having spent much of his young adult life behind vintage consoles: "When I started recording, especially in England, every console was prefabricated by the studio itself. Then I became aware of 1073s very early on being used in different studios, and I just realized that this was always the best stuff. When things got smaller in the '80s, so did the sound." It gives Frampton comfort knowing he can still get an authentic vintage sound by using 'modern vintage' preamps and EQs from BAE. "I use the 1073D on both vocals and on the guitar, and Chuck likes the 1081 in the studio, especially for drums, because it has the expanded EQ section. He often says to me," 'If you'd just get two 1081's I wouldn't have to bring mine!'"

Frampton has his guitar tone dialed in, mainly with old Fender Princeton Reverbs, a Vox AC 15 and a '63 Fender Vibroverb. "I am more or less just a combo guy now," he says. "I don't usually use EQ on the way in, because the mic pre is the thing that does all the work. That's why we'd love more of the BAE mic pres, without EQs, for the studio. They are just so transparent inasmuch as you can get a great sound. They are obviously coloring the sound exactly in the way you want them to."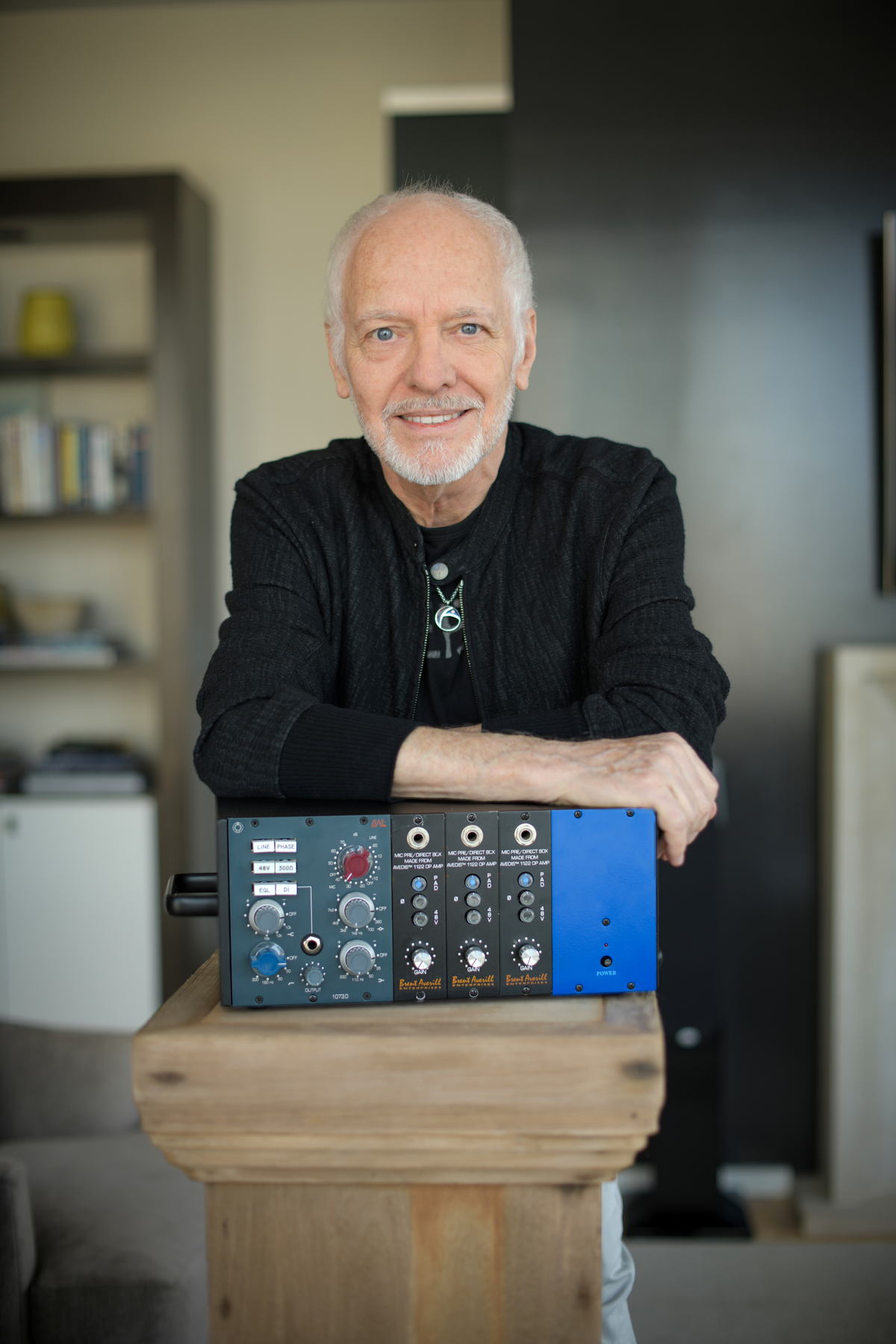 A craftsman's language
A musical craftsman himself, Frampton appreciates the work that goes into designing and developing high quality tools: "Mark [Loughman, BAE President], will never short circuit the design or what goes into a piece of gear unless it is the right thing," he says. "I have been using that 1073D 500 series unit on several of my demos and it is fantastic. On the blues record, I've got a slew of 1073s in the studios in a big rack and Chuck was using them most of the time. This rack includes four original BAE mic pres with no EQ."
"My experience with BAE has been great — the build quality, the sound, it's all there," Frampton concludes. "I respect Mark's passion for what he does. He will not release anything to the public until it sounds like 150% and everything I've got so far from BAE has been wonderful."
For more information on BAE Audio, visit baeaudio.com