Photos by: Cho Gi-Seok, Geray Mena
As the wave of Latin music reaches new heights in the U.S., Colombian-American singer-songwriter Kali Uchis has been one step ahead of all the action. Her genre-defying sound of soul, R&B and hip-hop―plus the cheeky fusion of Spanish and English songwriting―has earned her a spot as one of the hitmakers to watch.
Born Karly-Marina Loaiza, Uchis grew up between Colombia and northern Virginia as the youngest of five children. She was kicked out of her home at the age of 17 and was forced to live in her car. She first gained mainstream prominence after releasing her debut EP Por Vida for free download on her official website. The tracks featured production by high-profile acts such as Diplo, Kaytranada, and Tyler, the Creator. This caught the attention of Virgin EMI who she eventually signed with.
Uchis' eagerness to work with other artists is what generated the most buzz early in her career. By the time Uchis released her debut album Isolation, she had already been nominated for Grammy awards through her featured appearances on Daniel Caesar's "Get You" and Juanes' "El Ratico." She eventually earned her first Grammy in 2021 for Best Dance Recording with Kaytranada for their collaboration "10%."
The artist's second studio album and first Spanish-language album Sin Miedo (del Amor y Otros Demonios), released in 2021, spawned the viral single "Telepatía," which became her first solo charting hit in the U.S. Billboard Hot 100. It is also the Billboard Hot 100's longest-running Spanish song by a solo act this decade with a 23-week streak. Earlier this year, she released her third album Red Moon in Venus, which debuted at No. 4 on the Billboard 200 albums chart, marking her first top-10 album on that list. Uchis is not an artist who's following a playbook; she's making music on her terms. She's not conforming to the industry standard, instead embracing her heritage and bilingual talents. It is this honest approach that has won the hearts of many new fans.
---
Music Connection: You just turned 29, happy late birthday. Looking back at your career did you ever imagine accomplishing so much in your '20s?
Kali Uchis: No never, my ambition was to be able to provide for myself. I never dreamed of accomplishing any of these things.
MC: You grew up in Virginia, your family is from Colombia. What inspired you to pursue music?
Uchis: I also grew up in Colombia, I went to school there at first. I came back to the United States to finish. I still would go back every year―I had my house there, my family, everything. When I was visiting home in Colombia, I first came up with the name Kali Uchis and shot one of my first music videos.
I always knew that I was a creative person. When I was graduating high school what I was doing for money was creative things. I had gotten myself a camera and was shooting artwork for other artists and shooting music videos―most of the artists in the VA area are mostly rappers, very much a rap scene.
MC: What do you love about music?
Uchis: I have always loved writing music. Writing music is something I remember doing from the moment I could pretty much speak and write, in general. It was something I was always doing. I grew up bilingual from the moment I learned language, so I learned to read and write Spanish before English and I learned to mix it a lot. We used to speak Spanglish pretty much my whole life. That was always something that was very much intertwined for me as a writer. It was just something that made sense to me. I didn't feel like I chose to be an artist, I just feel like I was born an artist. It was something that I felt was my purpose. My ambition was not really in regards to fame or accolades.
MC: What did you listen to growing up, who were your inspirations?
Uchis: I really looked up to women in music who had their own sound, were really strong and had unique voices. I always loved Sade. When it came to Latin music, I just loved all the strong vintage singers, like Claudia de Colombia―women who sang with their hearts, as soon as you heard them singing you knew who it was. For me it was always important to find my own voice, to not be too inspired by anyone else because what I've always liked is people who have their own voice.
MC: Virginia doesn't have the biggest music scene; what tactics would you use early on to get your music heard?
Uchis: I feel like the internet really was what helped my main fanbase find me at such a young stage of my career. I was developing myself as an artist in the public eye online, I didn't keep anything to myself. Like my first project, Por Vida, people think it's an album but really it was just a free project that I put on the internet. So, a lot of things just happened from word-of-mouth, people just discovering me, talking to each other.
MC: You eventually moved to Los Angeles and have been living here for a couple of years. What is it about the L.A. music scene that you love?
Uchis: When I first put on my first project, the one I was telling you about, people were reaching out to me and sending me stuff―it was a lot of people from L.A.
Coming from a small music scene that was more so centered around rap and hip-hop and me very much being more of an alternative sound to what was around me, I immediately felt that there was a lot more work. L.A. definitely had a bigger scene and scope of producers to work with for me and I've always loved it.
MC: Was there someone who helped you navigate the industry in L.A.?
Uchis: No, when I came to L.A. I was just very much on my own. I had a manager at that point, but they didn't live in L.A., they lived in Texas. It was a young person who didn't know what they were doing, either, so I was very much on my own.
MC: That must have been tough. How did you guide yourself through the industry?
Uchis: A lot of people were reaching out to me to take meetings at that point. I've never been too much of a social person. I never went to events or did the whole shake hands, rub shoulders with everybody type of thing. Moreso I was just of the mindset that working on perfecting and solidifying myself as an artist, that my work would speak for itself. It was still early for me, I was more interested in just making as much music as I could.
MC: You recently announced your new tour, Red Moon in Venus Tour Part II. Most of the dates have sold out, congrats. How surreal is it to headline arenas for the first time?
Uchis: Thank you, it's crazy for me because, like I said, coming from essentially somewhere that really didn't have the support, didn't really have that community. I remember when I was starting there were a lot of people who really didn't see the vision or thought I was always gonna be a very niche artist. That I wasn't going to have a big enough fan base to sell these large types of rooms, so it's really nice to be able to do and to still be able to have a career this much time later. You know? When everyone doubted you, it's a good feeling.
MC: Do you ever feel nervous hitting the stage?
Uchis: Normally no, it's kind of rare when I do. It kind of just depends on what's going on in regards to backstage type of stuff. Sometimes things aren't going as planned when it comes to it―might be an issue with your outfit, it might be an issue with production. Those types of things will add to show anxiety for sure, but if everything is going as planned, I'm pretty relaxed before a show.
MC: Are you and your dancers rehearsing in a large space so that you feel comfortable on a big stage arena?
Uchis: I'm going to do these new rehearsals soon. I'm assuming they are going to be like the Coachella rehearsals. At first you perform with the room taped down so you see the dimensions of the platform that you are going to be on, the stairs that are going to come down, stuff like that. So, you kind of get an idea how many paces you are gonna count, things like that. Then toward the end of the rehearsals they bring in the actual production so you can really feel it. It's a little bit of a process.
MC: The tour is in support of your third studio album Red Moon in Venus. What is the inspiration behind this album?
Uchis: When I looked at the entire body of work, I felt like the overlying message was definitely love, but in all its different dimensions. I think that it talks about self-love, love in regards to heartbreak, love in regards to newfound love, but all of it was really just love in general. I felt the world needs more love and more honest expressions of that. It's kind of the only album I have where the whole album is about love.
MC: You are the only songwriter in the entire album. Were any of the tracks hard to write or easy to compose?
Uchis: I don't want to say any of them was necessarily hard to write, but I think "Blue" was maybe the hardest to put out, because it might be one of my most vulnerable songs. It's hard sometimes to talk about a difficult time. Relationships go through a lot of ups and downs and a lot of people don't like to talk about the downs of a relationship, you know, unless it's a breakup song. I think that's probably on the album the most vulnerable for me, just because it's not a breakup song, it's about being in a weird place in a relationship.
I think probably the easiest one that came the quickest was probably "I Wish You Roses." I wrote that song without any music and I recorded the whole thing with just my voice. A lot of songs were written like that, but I feel like that was the easiest.
MC: How do you deal with writer's block?
Uchis: Now that I'm three albums in, I'm being a lot more conscious about particular projects. For instance, while I was making Red Moon in Venus, the majority of the time I was also working on my fourth album, which is coming really soon―which is my Latin album. So, it's a fun way to not get writer's block and restrict myself, not feel limited in regards to my expression. If I want to make a song in Spanish one day or something more dancey, something that doesn't feel like Red Moon in Venus and it could feel more like the other project I'm working on, then I put that there.
MC: How has your songwriting evolved from album to album?
Uchis: I would say it's the same process. Most of the time, randomly a melody and lyrics will pop into my head. At times that I don't expect it. I might be on a plane, I might be in the shower, I'll be somewhere where it's hard for me to record the melody at the time, but as long as I can pick up my phone and get a recording and kind of write something down in my notes, I revisit it later when I'm in the studio and I sit on it. I never really know when inspiration is going to spike, so it's very much a spontaneous process.
MC: You've collaborated with so many amazing artists, including Tyler, the Creator, Kaytranada and Don Toliver. What is it about collaborations that you love?
Uchis: I think it's always fun, especially when you respect another artist. I very much build my own world when it comes to the aesthetic of an album or when it even comes to my brand as an artist. I very much like to focus on being in my own lane and keeping everything that has to do with me about me. When I'm working with another artist, I kinda get a break from that for a second. It's fun, it's fresh.
MC: Which one of your collaborators has given you the best advice?
Uchis: I want to say the person who's probably given me the most advice out of all my collaborators is definitely Tyler. My first collaborator ever in my career. I feel like I definitely always have seen him like a big brother. I've always been able to come to him when I had questions about what is normal in the industry in regards to anything from label deals to management commissions to all types of stuff. I think it's really important for artists to understand their worth, their value and what is the norm.
MC: You create music in both Spanish and English. Was there any pushback early on to focus on only one language?
Uchis: I think it's really sad. I've had so many smaller bilingual artists be like "Man you really inspired me, I want to make music in English, too, but my label says I just gotta stick to the Spanish, 'cause that's what's working for me." For me, it was the opposite. I had dabbled in Latin songs. One of the first songs I ever put out was a cover of "Porque Te Vas" by Jeanette and on my first album I had a reggaeton song "Nuestro Planeta" with Reykon, who's really big in Colombia. So, I have been doing stuff like this before, but my audience was mainly from the United States, because the rest of my album was in English and my songs that did well were in English. From the label perspective, especially at that time, Latin music wasn't a thing.
That was always my plan, my second album was going to be in Spanish. I had to turn in Isolation, which dropped in 2018, and let everyone know what I would like to focus on next is a Latin album and the conversation was very much like "We're not going to put our resources into this." I went ahead and chose to still do the album because, like I said, that was always part of my plan―English, Spanish, English, Spanish. I'm of the belief that if God gives you something you should use it. I feel like it's a slap in the face of God to not write music in Spanish, as well, if I'm a bilingual artist. That's how I grew up and that's a part of who I am, not just as an artist but as a human being. For me it wouldn't feel right to limit myself to only English music when that's not who I am. So, I was like oky then that's fine you guys don't have to support it, but that's something I'm going to do. I didn't expect for it to be received well or the way Isolation was. So, we just dropped it [Sin Miedo (del Amor y Otros Demonios)]. Then randomly around February was when "Telepatia" really started picking up. It ended up being my most mainstream song. In hindsight, everybody started becoming more supportive of me doing Latin music.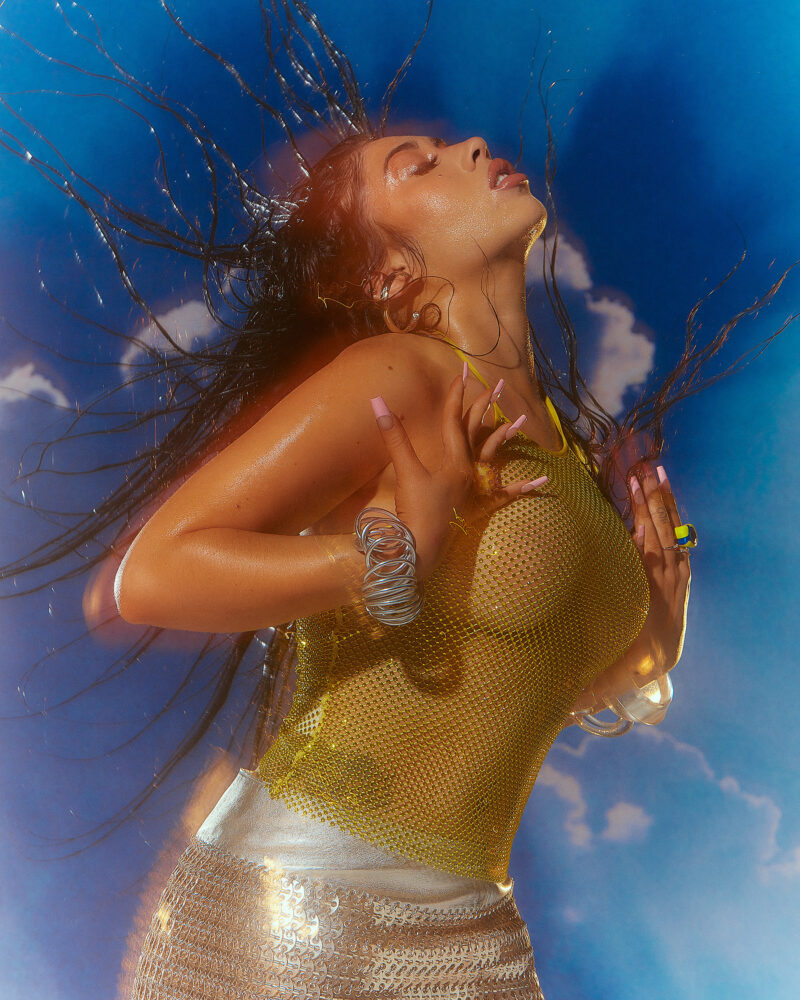 MC: I used to hear "Telepatia" all the time on the radio. Why do you think Latin music has had a big resurgence in the U.S.?
Uchis: Yeah, they still play it sometimes. There's really no way to say for certain. I think a lot of American artists who speak English became more open to working with Spanish-speaking artists and Latin American artists. Once that bridge was more established everybody wanted to cross it.
MC: What made you join a major label instead of remaining independent?
Uchis: I didn't have any way to record music at the level I wanted to. I had no way to get studio time, so for me it felt like my only option at that point in my life. I feel like the only people who can remain independent are usually when you have some type of support or you have somebody who has money that's able to fund what you got going on.
MC: Looking back at your career, would do anything different?
Uchis: There is so much I would do differently, honestly. I think I would definitely work on developing myself more as an artist privately before putting everything on the internet. Even though that is how my fans first found out about me, I just didn't realize at the time that's what people do. People develop themselves as artists first. I started performing when I barely had one or two songs out, so I feel like I spent a lot of time working harder instead of smarter.
MC: What was your best career move?
Uchis: Staying true to myself. Not compromising my sound or my brand or who I am or anything. That's the reason why my fans connected with me in the first place, they can feel it's very much me, all of it.
MC: You have had a busy year, what else do you have coming up?
Uchis: I'm going to drop a new single by the time your interview comes out, it has El Alfa and JT (from City Girls).
MC: That's so cool, what is it called?
Uchis: It's called "Muñekita." It was really fun for me because I don't really slip into that sound as much. It feels like when you're in a room with all your cousins taking turns doing little dance battles. It's that type of energy. I wanted it to feel like a party, so that's why I put El Alfa. I feel like he's classic for that summer sound, I just love his energy on the song. Then I was like "We need one more person, we need a girl" and I feel like JT was perfect because she's coming out into her own as a solo artist this year. I felt like bringing two artists together who are from such different worlds is always exciting for me. I don't think anyone would expect me and JT to make a song together, or me and El Alfa to make a song together, or even more me, Alfa and JT. It is such a random combination and I feel like stuff like that is fun and exciting. •
Contact [email protected], [email protected]