Photo Credit: Alex Brenner
The first US residency for the multi-room One Love Experience will be held at LA's Ovation Hollywood – from January 27, 2023-April 23.
Visitors will see Marley's entire Rock & Roll Hall of Fame archive at the exhibition, alongside previously unseen photos, rare memorabilia, concert videos, guitars, lyric sheets, sneakers, a Marley-branded jukebox, and Marley-themed artwork inspired by the star. There will also be a silent disco in the venue with headphones at the Soul Shakedown studio, where fans can dance along to Marley's music. On area celebrates the Marley family legacy and philanthropy.
"The world's largest vinyl record" of the Legend compilation will be on display, plus a cannabis garden known as the One Love Forest. Marijuana is legal in California.
The One Love Experience will kick off its stint in LA with a pre-party featuring performances from Marley's grandson Skip and King Cruff, the latter of whom is signed to Tuff Gong. More events will take place at the venue in February, around what would be Bob's birthday.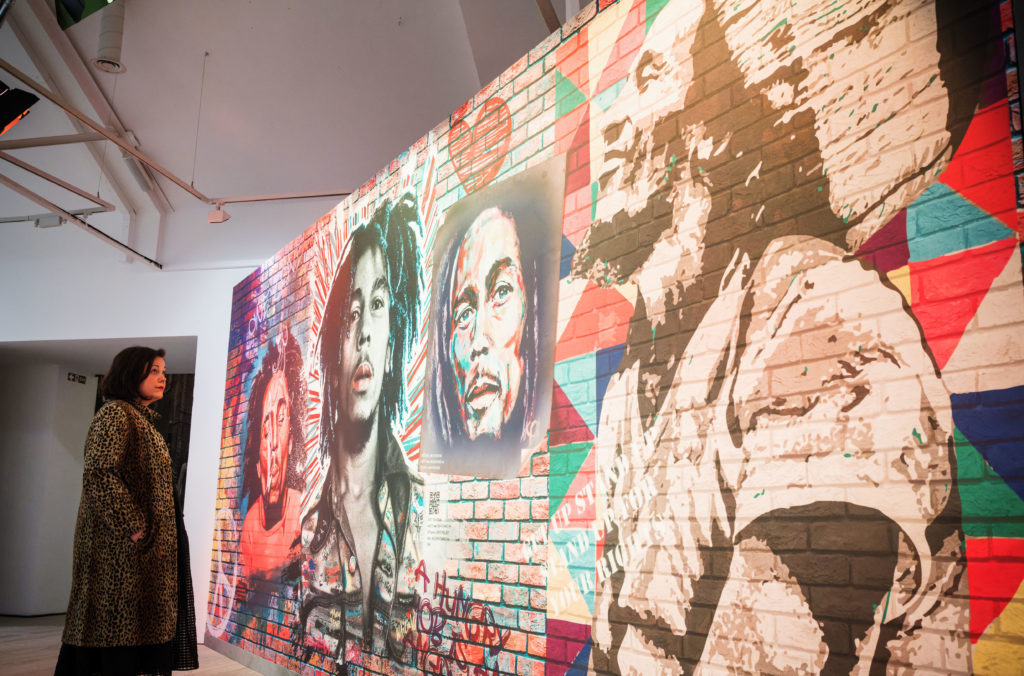 In a statement, Marley's daughter and CEO of the Bob Marley Group, Cedella Marley, said: "We are so thrilled to have the exhibit opening in Los Angeles just in time for Daddy's birthday [on Feb. 7]. After being in London and Toronto, it's going to be amazing bringing the experience here to the US for the first time and just steps from Daddy's star on the Hollywood Walk of Fame."
The event is created in partnership with the Marley Family and Terrapin Station Entertainment.
The exhibition's director and producer, Jonathan Shank, added: "The Bob Marley One Love Experience has already created so many positive vibrations for fans in London and Toronto, and it's an honor to continue to have the opportunity to curate and produce the exhibit right in the heart of Hollywood."
Tickets will go on sale on December 7 and will be available to purchase on The Bob Marley One Love Experience website.
---
Harvey Kubernik and Roger Steffens Interview on So Much Things to Say: The Oral History of Bob Marley
Q. What was the genesis of this book?
A: Since 1979 I had been conducting various reggae interviews, many solely regarding Marley, with people from all different parts of his life. They appeared in print, on radio and tv, and in my first Marley book, Bob Marley: Spirit Dancer, done with the brilliant photographer Bruce Talamon and released by Norton in 1995. After 23 years of listening to fascinating, and often myth-deflating testimonies, I realized that a book of raw transcripts could be a powerful and necessary resource for future biographers. After all, Bob is the most important musical artist of the 20th century, who I'm certain will be studied for hundreds of years to come So I sold the idea to my editor at Norton, Jim Mairs, in 2002 and signed a contract.
Q: The process of the endeavor.
A: There were several interviews that had not been transcribed, so that is what I began to do. I realized there were some gaps in the material and also solicited new interviews. Chief among them were interrogations that took place in 2003 at WBAI, the Pacifica station in New York City, arranged by my award-winning friends The Midnight Ravers and Terry Wilson. The subjects included a childhood friend of Bob's in Trench Town named Segree Wesley. For twenty-odd years I had been attempting to speak with the two women who were in the first lineup of the Wailers: Cherry Green and Beverley Kelso. Cherry flew up from her home in Florida and Beverley came down from the Bronx for hours of revelatory raps. Cherry died not long after, so thank Jah their stories were cemented for history.
Then in 2005, with about 75% of the book complete, a disaster took the entire project. My non-backed-up computer crashed, swallowing everything – the transcripts, the notes, the manuscript itself. All efforts at repair failed and I fell into a two-year funk. Writers understand how deadly boring the process of transcribing is, the least favorite part of our profession. So, when Jim called in 2007 wondering where the book was, I had to reveal the reason I'd been so silent. He was very understanding and told me to resume and keep him posted. By 2010, after redoing all the transcripts, I thought I had nailed it and sent him most of the manuscript, only to be told that the editors at Norton had decided that I should restructure the whole book into an "oral history" format. For example, I would take all the different people who commented on the Smile Jamaica assassination attempt and put them in that chapter, with everything arranged chronologically.
As I began to do that, Jim Mairs revealed he was fatally ill and turned the book over to a younger senior editor at Norton, Tom Mayer. This proved to be a most fortuitous transition, as Tom had been a reggae deejay on the Columbia University radio station, WKCR (I had been on the air in L.A. for ten years on KCRW). He also had a reggae band in New York in the aughts. So, he knew the subject. I gave him a manuscript with nine chapters and he turned them into 35, massaging its transformation every step of the way, turning it into something readable and compelling. After nine books, I had found my Maxwell Perkins, and the success of this project is in huge part due to him.
Q: What are your favorite Marley tunes?
A: My favorite is "Waiting in Vain," which Linton Kwesi Johnson, the great Jamaican/British dub poet who wrote the intro to So Much Things to Say, called the greatest love song ever written. I love the doo-wop ballads "Send Me That Love," "Wisdom" and a later discovery from the Coxson vaults, "I'm Still Wailing." I really dig the muted version of "Time Will Tell" on the soundtrack of the film Countryman.
Q: Do you have a theory why the live recordings of Bob Marley & the Wailers sound better or more energetic than the original studio recordings?
A: There's a tremendous difference between interpreting a song in the studio - often alone - and standing in front of 20,000 people. That live energy transforms all performers and pushes them to heights they might otherwise not attain. Bob rehearsed his band so thoroughly - often working a single song day after day - that they could follow his lead with just a tilt of his head of a flick of his finger, and take a three-minute record into eight, ten even twenty minute improvisatory performances that often reach magical levels of inspiration. Many consider Bob's two live albums - at the Lyceum in London in '75 (Live) and the majestic double album Babylon By Bus in '78 - as reggae's finest.
Q: What are some of your best Marley live performances?
A: Of course, the first time I saw him at the Oakland Paramount in July of 1975 whirling dervishly like an unstrung puppet. Hanging out at the soundcheck with him at the Roxy in November of 1979, hearing him sing a new song about redemption that he was working on.
Q: What is happening with the potential sale of your vast Reggae Archives? I understand that they now fill seven rooms, floor to ceiling, of your home in L.A.
A: Well, at the end of 35 years of turning down offers to acquire them, I have finally found the perfect person to give them to - Jo Bogdanovich, the owner of the famous Sumfest Festival in Jamaica. He plans to build a major museum in Montego Bay to house them, and work will start as soon as Jamaica signs to deal for the land there. I've just turned 80 so I hope it will be very soon, and you'll be able to join me on opening day!
---
Harvey Kubernik is the author of 20 books, including 2009's Canyon Of Dreams: The Magic And The Music Of Laurel Canyon and 2014's Turn Up The Radio! Rock, Pop and Roll In Los Angeles 1956-1972. Sterling/Barnes and Noble in 2018 published Harvey and Kenneth Kubernik's The Story Of The Band: From Big Pink To The Last Waltz. In2021 they wrote Jimi Hendrix: Voodoo Child for Sterling/Barnes and Noble.
Otherworld Cottage Industries in 2020 published Harvey's Docs That Rock, Music That Matters.
Kubernik's writings are in several book anthologies, including, The Rolling Stone Book Of The Beats and Drinking With Bukowski. Harvey wrote liner notes to the CD re-releases of Carole King's Tapestry, The Essential Carole King, Allen Ginsberg's Kaddish, Elvis Presley The '68 Comeback Special, The Ramones' End of the Century and Big Brother & the Holding Company Captured Live at The Monterey International Pop Festival.
In 2006, Kubernik was invited to address audiotape preservation and archiving at special hearings called by The Library of Congress held in Hollywood, California.